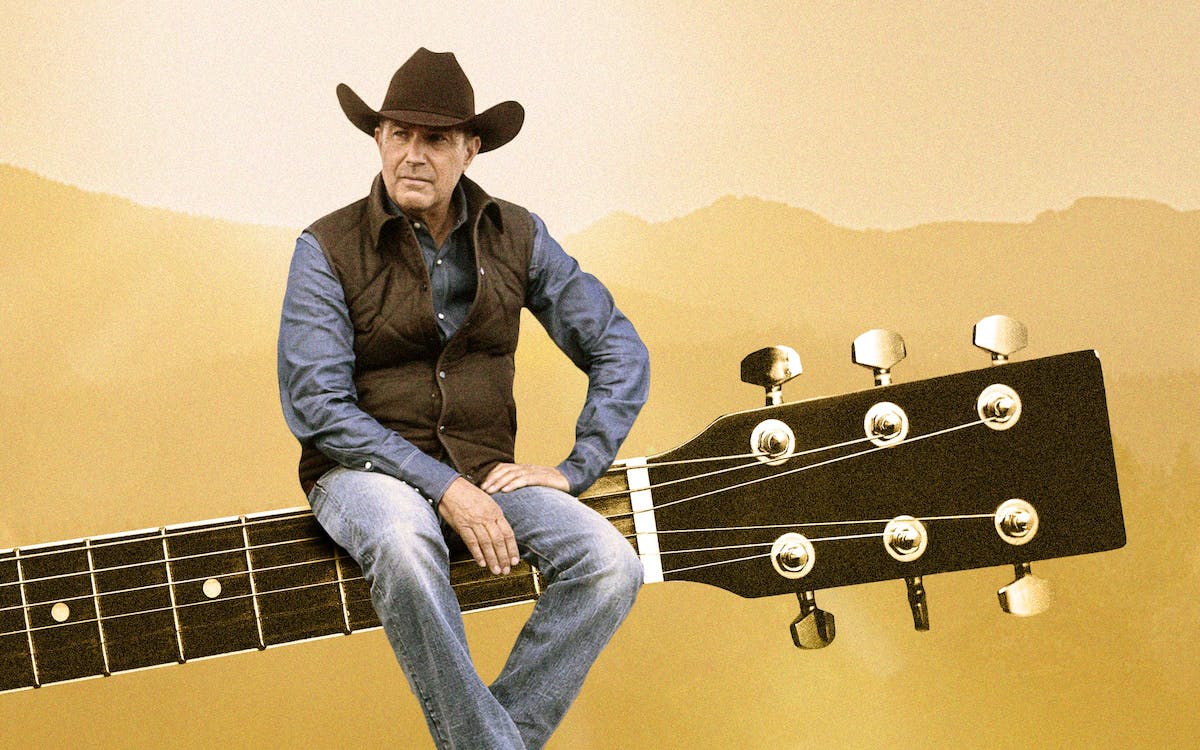 In a pivotal moment of Yellowstone's pilot episode, protagonist John Dutton's estranged son, Kayce, returns to his father's ranch. As he steers his truck toward the property's entrance, he mutters, "Hope I don't regret this," and the choppy fiddle from Texas band Whiskey Myers's "On the River" sets an adventurous tone. As Kayce drives toward the threshold of his childhood home, the austere song intensifies the scene with a power worthy of a prodigal son's return. 
First-time viewers of the hit Paramount Network series may come for the cowboys, the Western culture, and the serene vistas of horse-dappled pastures, only to get sucked into the show's gripping story lines (think: bar brawls ending in bullfights) and operatic melodrama (think: a livestock commissioner burying someone alive under a cattle guard instead of making him pay a fine).
On Yellowstone, stakes are constantly rising and expanding beyond the property markers of Dutton's Montana ranch. No matter where the plot wanders, however, it retains a singular dark, Western tone that brings fans along for the ride. The soundtrack, featuring Texas musicians such as Whiskey Myers, the Panhandlers, Ryan Bingham, and Wade Bowen, is critical to keeping the expansive show tethered to its tone and cultural subtext.
Yellowstone's playlist, curated by music supervisor Andrea von Foerster, helps wash every setting—from corporate boardroom scenes to still shots of vast flaxen plains—in the same stark, rustic realism. A proud roster of Texas artists has scored some of the series' most dramatic moments. This isn't simply because Texas is the second-largest state in the nation. Taylor Sheridan, the show's cocreator, is a born-and-raised Texan and a 2021 inductee to the Texas Cowboy Hall of Fame. His Academy Award–nominated film, Hell or High Water, takes place in Texas, and the state is a primary setting in several of his other works (Sicario: Day of the Soldado, 1883). Texas runs deep in the DNA of Yellowstone, and it's only fitting that Sheridan and von Foerster would tap its rich music scene to help set an authentic tone for the neo-western opus.
The show's recurring use of Texas music is made linear in Spotify's popular Yellowstone official playlist. (The country and rock mix boasts over 165,000 followers, a number more than one-third larger than the population of Billings, Montana—the closest metro city to Yellowstone National Park.) Featured singers who hail from our state, from Whiskey Myers to Uncle Lucius, make music with stripped-down qualities of country and rock often collectively pegged as "Texas country." Genres and labels aside, the Texas country music scene is famous for its independence from the mainstream. Artists can spend their entire careers touring and pursuing success without crossing state lines. This self-sufficiency supplies the state with a high concentration of artists empowered to take alternative paths, which begets the creation of country songs that may not be fit for national country radio but are perfect for a ranch-set soap opera. 
One of season four's most consequential scenes uses "All I See Is You," a tune by Austin-based country-rock quartet Shane Smith & the Saints. It marks the exodus of Jimmy, a young wrangler, whom Dutton dispatches to Guthrie, Texas, to learn how to be a cowboy. Jimmy is tossed into the custody of brawny rodeo bullies who aren't too keen on the young, wide-eyed buck. Dreading their long drive ahead with the naive Jimmy, the older cowboys decide to blare music instead of talk. The driver, Travis (played by Taylor Sheridan himself), barks "Shane Smith and the motherf—ing Saints" before flipping on the song. Its plaintive fiddle lead rises above the noise, transforming the scene from a comical back-and-forth to a bittersweet tearjerker. As the ballad gets louder, Jimmy peers out his passenger window to share a final glance with the lover he's leaving behind. From beginning to end, the scene is filled with a sense of anxiety. But at the end of it all, Shane Smith & the Saints' grassy, upbeat song grounds it in a hopeful tone and an assurance that Jimmy is off to bigger and better things.
Later in the season, we see Jimmy fully integrated into his rodeo assistant role. In a montage, he looks on as professional wranglers rein and trot in the center of a rodeo arena. The rodeo is a new setting for Yellowstone, not only because it's in Texas, but because it portrays the flashy, showbiz aspects of Western riding. Up until this point, horse riding is all utility and no performance. Through Jimmy's starry eyes, we see a stark change from the rural acreage that backdrops most of the show. The montage is set to two country-rock songs by Texas artists: Bluff Dale native Red Shahan's "Javelina" and Sebastopol-born Cody Johnson's "Dear Rodeo." Von Foerster could have just as easily selected more popular or recognizable Southern rock songs to set an upbeat pace for the scene, but that wouldn't have fit the realism of the show. These selections sound more like things you would actually hear at a Texas rodeo, making the sequence as real and exciting for us as it is for Jimmy.
One Texas musician is getting a boost by appearing on-screen as well as on the soundtrack. Grammy-winning songsmith and Austinite Ryan Bingham plays a ranch hand on the Dutton property. At night, he often serenades the crew with tunes from Bingham's real-life catalog. His performances help to add a bit of culture and romantic sensibility to the rowdy Dutton workforce, who otherwise seem to spend the entirety of their free time drinking, gambling, hiding bodies, and breaking into fights. "To have him on 'Yellowstone' is a gift," Sheridan told the L.A. Times. "He is the graveled voice of this generation's cowboys and poets."
Sheridan and von Foerster seem to be making a concerted effort to extend opportunities to Texas artists. Sheridan enlisted Weatherford native Garrett Bradford to pen a song for the show to be used in a transitional scene. The track, "This Way of Life," is a spare recording of Bradford and his acoustic guitar. Played over various shots of the ranch—aerial views of the equestrian barn, daybreak over the mountains, the family chef making biscuits—it mourns the death of the rural lifestyle. This point is often returned to throughout the series. Dutton's ranch—the largest privately owned property in Montana—is under constant territorial threat from outside forces. In some ways, the show is about the unbeatable strength of stalwart country dwellers who stick to their guns, literally and figuratively. The Texas artists featured on the soundtrack help to provide the show, and this message, with sensitivity and thoughtfulness that temper its harsher aspects of murder and betrayal. They add to the show's immersive power, so viewers feel like they can imagine what life is really like on a picturesque Montana ranch, even if it's the last of its kind. The final Bradford lyrics heard in the scene play as Dutton is shown waking up: "As long as I'm still breathing and my blood is flowing red / Our way of life ain't dead."