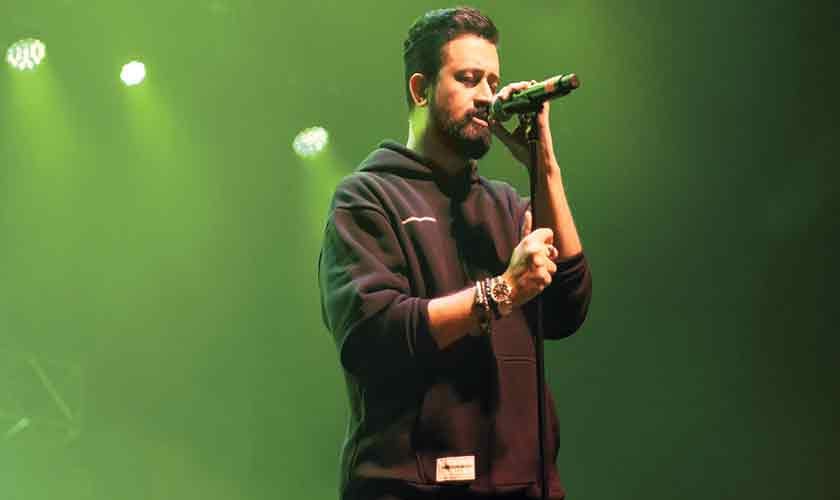 Your heart and my heart/Are very, very old/Friends." – From The Gift by Hafiz
On a Sunday morning in California, Atif Aslam is rehearsing to perform at a prestigious (then-upcoming) Sufi conference – scheduled to take place in Toronto, Canada.
The conference has hosted illustrious names such as Sami Yusuf in the past. Invited to perform, Atif Aslam is well-aware of its significance and the responsibility that comes with it.
To that end, Atif has shed the pop star spirit for the inherent Sufi nature that is a part of his personality. A case in point is the material he is planning to present at the conference. Choosing kalaams by the likes of Baba Bulleh Shah and other Sufi masters has taken precedence over pop songs.
"It is akin to a religious conference with seminars. People from all over the world attend," he says, "We are performing a completely different set."
As Atif confesses, the set includes Sufi kalaams by the likes of Baba Bulleh Shah as well as renditions of kalaams he has done in the past such as 'Tajdar-e-Haram', 'Man Kunto Maula' and 'Wohi Khuda Hai' – among others.
This performance is an exciting one for Atif Aslam. "I started my career with singing and it allowed me to express myself and form connections."
The prospect of performing at this Sufi concert is, for Atif, about his career coming full circle. He also found it challenging because of what the set would entail and how he planned to present it.
"These kalaams have been performed by many others and yet they're fresh. I think your kalaam doesn't change, only the voice changes. I'm excited about how I hope to present it."
Atif Aslam also knew that the audience at this conference extends beyond Pakistani or Indian fans. It would include other nationalities as well so the idea about playing this set to new(er) listeners was exciting, challenging, and created undeniably strong emotions in him.
"May you always do for others/And let others do for you/May you build a ladder to the stars/And climb on every rung/And may you stay/Forever young." – 'Forever Young' by Bob Dylan
2023 is a hallmark year for Atif Aslam, the superstar, the singer, and Pakistan's biggest export to the world from the performing arts arena. This year, he has entered the 20th year in his career, beginning with 'Aadat' in late 2003 and growing in the decades that followed.
Between 2003 and 2023, the music ecosystem has drastically changed. As Atif looks back to the time when he was starting out, there is a hint of nostalgia as well as the realization that the way we consume music has changed (perhaps permanently) due to technology.
And though technology has given fans a free run to discover music like never before, there can be, at times, so much choice that a person can feel a sense of cognitive dissonance.
"These are different, even tougher times. I think it varies from artist to artist," he observes. To Atif, it is also about the purpose and what the reason is for an artist to start his career. Is it for 15 minutes of fame? Is it about what comes along with being a superstar like fame, money, power or is it about longevity and expressing an artform. "To be honest, I don't know what anyone's real agenda is but if an artist is here to stay, they have a lot of choices now; they can introduce themselves in many different ways and it gives them an edge in comparison to past decades."
Being an overnight sensation, he says, is not the same as it was. Because people have so many choices, says an astute Atif, if you don't follow up, you're not going to last. "If you keep doing the same thing, people will forget you."
"Servin' up a look, dancin' in the drought/Hello to the big stepper, never losin' count." – 'N95' by Kendrick Lamar
As coronavirus infections eased up in Pakistan in the last two years, Atif Aslam was at the forefront of creating and releasing new music. And when Atif Aslam does something, music fans in and outside the country take notice. He went on an interesting spree, releasing new songs with music videos ft. some of the country's finest women actors. Somewhere in there, he also worked in his first television drama, Sang e Mah that elated fans and challenged Atif to step out of his comfort zone, emotionally and physically. This didn't keep him away from commercial platforms like Coke Studio or Pakistan Super League. In a nutshell, the post-corona freedom meant Atif Aslam was everywhere.
"The commercial platforms have their own parameters and you can't step outside after a certain point. There are client requirements," he says, thoughtfully. "With your own music, you are the boss and you're in charge. The fact that only few artists were doing original music was one reason. But more than that, I wanted to reinforce the idea that it isn't true that a song will only survive if it has enormous push behind it."
Atif gives an example. Songs that created a path for him in Bollywood were originals like 'Lamhe' and 'Aadat'.
Another reason why Atif Aslam dropped a series of songs – accompanied by elaborate music videos and actors – was because he wanted to make credible music videos, even if it was an expensive undertaking.
But perhaps the biggest reason was the acting bug in Atif that he wanted to push forward with each video, ranging from 'Raat' to the most recent, 'Moonrise'.
"I think it (acting) was noticed because I ended up getting Sang e Mah."
"In each of the music videos, there was also the aspiration of highlighting our artists."
"Mahira Khan is a sweetheart," with whom he had starred in Bol and its smash hit songs. Since a decade had passed, the idea to do a new music video emerged which was about doing something together. It culminated in the music video of 'Ajnabi'. In the case of other music videos, Atif wanted to highlight the talent of every one who featured in his recent spate of music videos even further than their current status as actors. The collaborations were meant as a process of mutual respect and exposure to each other's respective audience.
"It's always good to push artists from within your industry. We're often at odds with each other because one person is having it out with another and so on. But as a result of this, the sense of being an industry is not there. The day we realise that we need to work as a unit and as a nation, these problems will disappear."
In some ways, Atif Aslam is a stoic character who wants to do his job without being motivated by prejudice and malice of any kind towards any artist."
"How did ya find me how did ya find me?/What are you looking for, are you looking for?" – 'Find Me' by Kings of Leon
There is no school of music that Atif Aslam is not familiar with. From singing pop songs and recording his debut album in literally 5 days, he has seen and done it all. It includes original soundtracks, pop songs, Bollywood songs, devotional renditions, qawwali, ghazal and folk songs. During this process he has collaborated with a diverse group of artists from various genres.
Acting is a new beast he needed to conquer. We saw a glimpse in Bol (2011) but that was, as Atif has always maintained, about lending his celebrity power to an important film. In recent years, the acting bug in him, emerged first in music videos, followed by TV and in the future, a film, if and when the right one comes along.
With a drama serial as intense as Sang e Mah, Atif did unleash his craft in another field of performing arts: acting.
What compelled him to work in a drama serial, though?
"Well, I'd say I've been very lucky," Atif recalls, "You know, it can be a cliché when people say when are you starting your acting career? I'd say I'm waiting for the right script and this was the right script and I had been waiting for it for a good 17 years."
Atif admits it took some convincing before he signed on. What held Atif back from immediately saying yes were certain tropes. He wasn't interested in doing a musical or an unabashed love story. He wasn't waiting for a murder detective series either. "I was convinced when I heard the narration, read the script and even then, I wondered if it was the right one or not."
People who make up Atif's close circle including his family, he remembers, thought it wasn't necessary since he enjoys a solid music career. But that challenge was the final nail in the coffin. "I didn't like what they had said," he remembers. "I was like 'you think I can't do this' and I took it as a challenge and jumped in."
During the process, Atif Aslam unlearned being Atif Aslam. "Atif is used to being a big star but this role required shedding that perception of oneself."
In 2022, Atif also appeared in Coke Studio 14 and worked with younger artists such as Talal Qureshi, Faris Shafi and Abdullah Siddiqui. In the case of the latter though, Atif believes that he deserves a lot more credit than what he is currently being recognized for and hopes it will change.
The way he speaks, though, it almost feels like it breaks Atif's heart to see someone as talented being taken for a ride.
"Hello from the outside/At least I can say that I've tried." – 'Hello' by Adele
A middle-class boy who saved money in order to record his first single and those initial days of struggle came back to Atif when he was shooting for Sang e Mah and suddenly, he embraced what was before him. "I unlearned myself."
Rehearsing meant handing the script to anyone who came before him including the cook. At that point, Atif didn't know that he would be sharing dialogues against one Nauman Ijaz, an acting giant.
"Acting, therefore, is about reacting to what's around you. The cook wasn't giving the expressions that Nauman Ijaz would. So, when on the set, it occurred to me that it was about feeding off each other's energy."
"There's such a difference between us/And a million miles." – 'Hello' by Adele
As we segue between personal stories and the decades of outpouring of love from dedicated fans, Atif admits that his own life is at a point he never expected it to be. But he is grateful for it and for the fans.
Because of his celebrity power, he would meet his wife by going on drives. They dated for seven years before things became official and she became Atif's partner. His children, he admits, come from a privileged background, because of who he is.
He notes that while he won't rob his children from being Atif Aslam's children but certain values have been taught, particularly to the older one, who is eight years old.
On a parting note, Atif says his older son will pass down those values to his youngest and he is looking forward to that period but even between concerts, acting, and as the posterboy of fame, his favourite task is to drop his son to school. Fatherhood and being a good husband matter to him a lot more than being surrounded by sycophants who tell him exactly what they think he wants to hear.
Atif Aslam is confident that his career is, fortunately, on the up and up and he has plans to release more music in this New Year. He is also looking forward to acting but now he has set his sight on cinema. But Atif is unwilling to sign just about anything. Like his choice of drama serial, he will select content that has merit. When the fame disappears, he is willing to part with it because nothing is permanent and Atif knows it well.