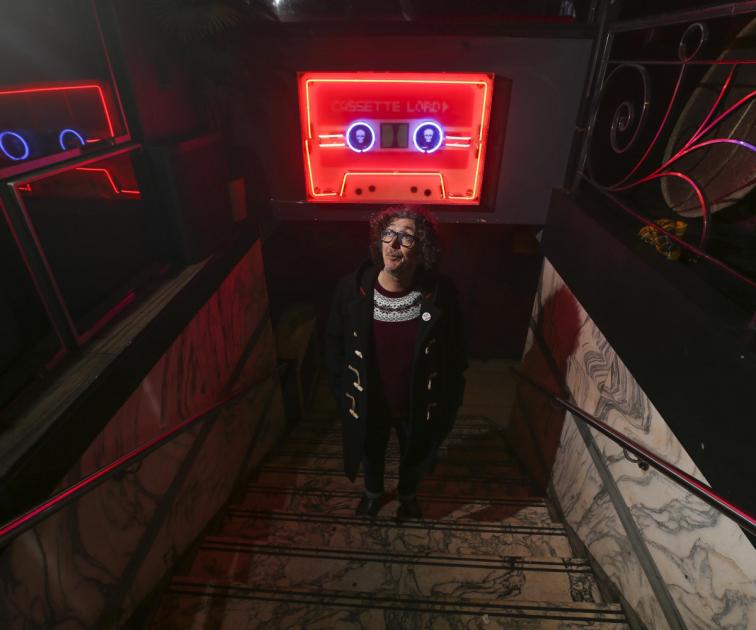 THERE'S a story Robert Hodgens – aka Bobby Bluebell – likes to tell about when he first went to London in 1982. Having left Glasgow and all his pop star mates – Clare Grogan and Edwyn Collins and anyone else who hung out in the Rock Garden and had a record contract – behind, he found himself in a very similar scene in London. Only now he was hanging out with Kevin Rowland and Paul Weller and Siobhan Fahey from Bananarama, who also just so happened to be Hodgens's girlfriend.
This was at a time when any self-respecting pop star was expected to dress for the part. Hodgens hadn't seen the memo, though.
"I remember being in The Mud Club, or somewhere like that," Hodgens is telling me. "I was sitting there with my duffel coat on and they've all got their Robin Hood suits or velvet pantaloons on and looking like Louis XIV. I remember Siobhan saying, 'That guy's just said, "Who's the weirdo in the corner?"' She said, 'That's my boyfriend."'
"I remember thinking – 'F***, I'm the weirdo.'" He laughs. The laugh becomes a cough. He recovers and then adds: "But I've always been the weirdo."
December 2022 and Hodgens has dragged himself out of his sick bed to sit in a Glasgow bar and talk to me about then and now, feuds and fancies, old girlfriends and new opportunities. Even in his flu-weakened state he's grand company, full of stories and good humour and maybe the odd grudge he's held onto for 40 years and counting.
READ MORE: A journey with the Spandau Ballet ghosts
He would probably be still recognisable to all those Louis XIVs. His sartorial choices haven't changed much, the hair is still full of curl and bounce and while there may be a few more lines on his face these days the wit and the sharp tongue remain intact even when he's feeling a bit under the weather.
We don't really need an introduction, do we? Bobby Bluebell, songwriter, raconteur and pop star, someone who has been writing songs for four decades but who, he admits himself, is best remembered for a handful of songs he made in the early to mid-1980s when his band were the then sound of young Scotland.
The Bluebells were the nearly men of Scottish pop in that decade, their singles not quite making it to the top until – years after they had originally split up – a TV ad sent Young at Heart, co-written with Fahey, to number one and the band back into the Top of the Pops studio. In the years since, Hodgens has worked with everyone from Sinead O'Connor to Sharleen Spiteri, B*witched to Brian Wilson. Not bad, really, for "the weirdo in the corner".
In 2023, though, things have kind of come full circle. Because March sees the release of a new Bluebells album, only their second ever (compilations don't count), a follow-up to Sisters originally released in 1984.
The Bluebells in the 21st Century is both the title of the album and a promise. At the start of February the band – original members Hodgens and Ken and David McCluskey, joined by "Campbell from Aztec Camera" (Campbell Owens), Douglas MacIntyre and Mick Slaven – will be playing Oran Mor, not as an act of nostalgia but as a fully functioning band with a record to promote.
"If we were the Bluebells starting out now, at the same age, this is pretty much the record we would make … If I was 18 in 2022," Hodgens explains, twisting the time lines as he does so.
Bobby Bluebell with Clare Grogan of Altered Images (Image: free)
It's a reboot. In the past the band has done the nostalgia circuit, played the Rewind festivals.
"I don't think we'll do them again," Hodgens says. "The money's really great. You do the four songs and it's great to meet Nick Hayward and the Beat guys. It's like doing Top of the Pops. It's fun.
"But eventually that's strangely not fulfilling."
No, he says, The Bluebells are now fully fixed on the 21st century. This is their time.
Well, what other time is there?
"Everyone gets better the older they get," Hodgens argues. "No-one gets worse, I don't think. It's almost impossible if you're a painter or a writer or a musician to get worse at it. How could you not think, 'I know how to do this'?"
It's good to hear his enthusiasm and appetite for the present. Of course, I've come along because I really want to ask him about the past, about the time he was living with Bananarama and hanging around the Rock Garden back in the day. He's good enough to oblige me.
READ MORE: Lola Lennox on growing up with Scots pop superstar Annie as her mum
The third of four sons, Robert Hodgens was born on the Govan Road to a Scottish father and an Italian mother, "a mixed marriage", as they used to call it. "My dad never once mentioned religion at all. His family, I found out later, were an Orange family from Northern Ireland. My aunts and uncles were fantastic, brilliant people, really great to us. They took me to Rangers a few times.
"I remember going to school and my pals going, 'What did you go and see Rangers for? You're a Catholic.' It was the first time I ever heard the word Catholic. The school was called Our Lady of Lourdes. That should have been a clue. But at six or seven your brain is not thinking in that way at all.
"I told my dad and he said, 'Well, you'd better go and see Celtic then.' And I've been a supporter ever since."
He has the inevitable Old Firm story to tell. He first met former Rangers chief executive Martin Bain when the latter was a model and hanging out in the Warehouse Cafe in Glassford Street.
"I don't know how he ended up being managing director of Rangers, but he did. He said, 'Do you want to bring your dad along to meet Willie Woodburn? You told me he was your dad's hero. Come to the game.'"
Father and son duly went to the game. "Of course, it was the full works. Director's box, dinner, trophy room, the whole thing.
"And then at half time, the tannoy announces, 'As part of the anti-bigotry campaign Glasgow Rangers are happy to invite Bobby Bluebell and his father to the game. Bobby's a well-known Celtic supporter.'"
It is fair to say the crowd did not take this information gracefully. Soon the chants began. "Bobby Bluebell, you're a w***er," was possibly one of the kinder ones.
"My dad's on his feet. 'He's no a f****** wanker.' Hodgens recalls. "And he goes, 'Get your coat, we're going.'
"He goes downstairs to the bar. 'Bring us the bill, we're leaving.'
"'Mr Hodgens, there's no bill. You're a guest of the club.'
"And my dad goes, 'Two whiskies.'"
During family parties, Hodgens would be wheeled out to sing either Bachelor Boy or Val Doonican's Walk Tall. He'd try to hear the latest pop songs through the static on Radio Luxembourg and started buying ex-jukebox singles from the local cafe.
He didn't have a burning desire to be in a band. That came later. But as a teenager he loved going to gigs. He even started a fanzine so he would have an excuse to get in for free. And he began to meet other future pop stars. He started hanging around with Orange Juice who would be hugely helpful in the early days of The Bluebells.
"I wish I was still friends with Edwyn [Collins]. I was with him at the concert at Kelvingrove [last year] but I don't think he remembered much about me. It's not his fault.
"We had an argumentative period when we were both in the charts in the 1980s. I used to think, 'Why is he slagging me off all the time? I've never slagged him off?' And then I just thought I'll slag him back."
It's very Glaswegian, isn't it? That mixture of affection and sniping. Perhaps it's because the Glasgow music scene was such a small field back then.
"My best friend Paul … I used to fancy his sister Dorothy. And her best friend was Kate Grogan, whose sister was Clare. They said, 'Clare's going to be in a band.' I went to their first gig in the Mars Bar. I was going to the Mars Bar a lot and I always had the fanzine cover; I realised that could get me into any gig and it was an excuse to be on your own if you're insecure – and I spent most of my adolescence being insecure I thought I had big ears, big nose."
Altered Images offered Hodgen's band a support slot at the Bungalow in Paisley. At that point they were called the Oxfam Warriors. (The first official Bluebells gig was at the Rock Garden.)
Over the years Hodgens has continued to work with Altered Images' Johnny McElhone, writing songs for Texas. "That's a remarkable achievement. I met him in 1979," he points out. He also contributed to Clare Grogan's recent Altered Images album Mascara Streakz.
But London was calling.
Hodgens always speaks of Siobhan Fahey with huge fondness. "I remember thinking she was such a star. I remember we played New York and Madonna came to see us. We were signed to Seymour Stein's Sire Records and he had just signed her. She was the cloakroom girl at Danceteria. I don't think she had even made a record when she came to see us and I remember thinking her whole look is straight from Siobhan."
How did he meet Fahey? Via a message in Smash Hits, it seems.
"I really fancied her right. It was Shy Boy, the picture sleeve. And the song's great too. And for a laugh I was getting interviewed by Smash Hits – I think it was maybe David Hepworth – I said, 'Put in that I really fancy Siobhan'. I knew fine well that she would see it. And sure enough, a few days later, we were playing in Regent's Park and there she was in the front row with her pal."
Smash Hits as the 1980s pop equivalent of Tinder.
"And after I went to meet her and I said, 'We'd better hurry up, I've got to go back to Glasgow.' And she was just taken aback by the sheer cheek of it. But I did move down pretty soon afterwards."
Into a flat which Fahey shared with the other members of Bananarama, Keren Woodward and Sara Dallin.
"It was like that Help film. Siobhan said, 'Whatever you do, just stay in this room. Don't go out.' And it was like this for a few days like I'm sort of a guilty secret."
At this point he comes out with the line that makes the 1980s-obsessed teen I was purr with pleasure.
"I remember one day they were going to play The Belle Stars at netball …"
It takes me a minute to catch up with what he's saying as I'm too entranced by the idea of Bananarama running attacking drills against The Belle Stars.
"So I'm sitting there and Sarah and Keren were asked by a journalist, 'Does Siobhan have a boyfriend?' And Keren said, 'Unbelievably we think it's that guy over there,' pointing at me.
"And then when it came out in a magazine they both said, 'That sounded terrible.' And I genuinely believe they didn't mean it. I'm still really good friends with those girls. They are great girls. And Siobhan is a fantastic person, but at that point Siobhan really wanted to write songs and I was being heavily touted as an up-and-coming songwriter and she had an affinity with Scotland. Sometimes you just hit it off with someone. We're still friends to this day."
Oh, and because I know you need to know, Bananarama won the game.
One would think that dating one of the country's most beautiful pop stars might change your sense of self. But Hodgens doesn't think it did. That insecurity didn't go away. He recalls a night in Birmingham when they all got invited down to the Rum Runner by Duran Duran.
Hodgens ended up sitting next to John Taylor, "who is one of the best-looking guys". Taylor asked him if Fahey had a boyfriend. "And I'm going, 'Yeah, I'm her boyfriend.' He goes, 'Is she single?' Just totally ignoring everything I'm saying. 'I'm going to go and ask her.' And he comes back, 'Nah, she's got a boyfriend.' 'I know …'
"Everybody was chatting her up," he recalls. Even Fahey's soon-to-be husband Dave Stewart of Eurythmics fame
"When Dave phoned her up to be in the Who's That Girl? video I knew right away … He also asked Kim Wilde and Clare. He was just hedging his bets."
Stewart was to play a huge part in the next stage of Hodgen's career. Because The Bluebells never quite became pop stars themselves until Young at Heart went to number one long after the first incarnation of The Bluebells had ended as a going concern.
By then Hodgens was a songwriter for hire. "That's all down to Dave Stewart. Dave's got a fantastic gift for that. He took me everywhere. If he was in LA or Cannes, 'You're coming.'" The two of them would end up in rooms with the likes of Tom Petty or Quincy Jones and Stewart would pipe up: "Bob's got a song." Whether Hodgens did or not. "The first thing you learn is you just make something up and he'll join in and it will sound fantastic. There were downs as well as ups. "I went through not a great period where you are on your own. I did B*witched and things like that. You see the record and there are nine names on it and I've not met any single one of them. I didn't even meet the girls.
"Then you end up working with people like Sinead O'Connor. My God, I don't think I've met anyone as talented as that girl in my whole life. To this day – until Sharleen – I've never heard a voice that powerful.
"I really get it now. You can write a song and it's not really a song until it's sung.
"I like singing my own songs, but when you hear someone like Sharleen singing something you've worked on … Sinead O'Connor … It's emotion 100 per cent, all the time."
Who would he like to work with that he hasn't? "I know it sounds really daft but people like Taylor Swift and especially Paolo Nutini and Lewis Capaldi. I know Capaldi's got a great team but could he sing a fast song? Imagine him singing Pump it Up by Elvis Costello."
These days Bobby Bluebell is 63 years old and is the father of two. He has spent his life making records or playing records as a DJ. Like the album title says, in the 21st century The Bluebells are a going concern again. And maybe they're more united than ever.
"Bands are never a democracy but they don't survive unless they become a democracy," Hodgens says. "What's the point of having a band unless they make you better? And there's no doubt in my mind that Ken and David make me better and I make them better."
What is this? Not an ending. That's for sure. He's certain about that.
The Bluebells play Oran Mor in Glasgow on Friday. Their new album The Bluebells in the 21st Century comes out in April