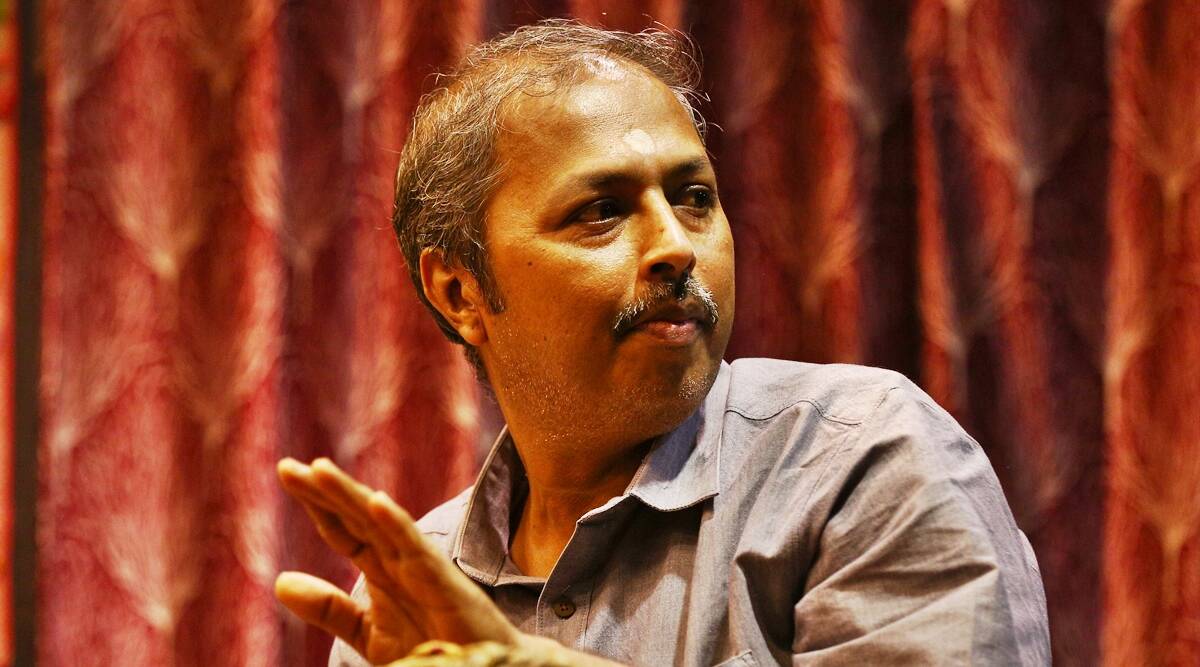 The rendition of raga Bhairavi by the reclusive Kerala musician Thamarakkad Govindan Namboothiri at the beautiful open-air theatre of Indira Ranganathan Trust at Alwarpet in Chennai recently was probably what the great MD Ramanathan had once referred to as "muzhukkappu", the ritualistic offering in Kerala temples in which the idol gets covered with sandal paste from head to toe. He had said that handling a raga was like doing a "muzhukkappu" — you have to do it very slowly and devotedly as a meditative process.
What was on display that day was the slow, detailed and painstaking process of presenting the essence of the raga and the composition than mere singing. A composition that you have heard innumerable times suddenly starts showing soul-stirring details which you feel a little fearful to explore even as a listener. Those are precise, deep, sometimes painful, details that only a renouncer can attempt.
Thamarakkadu's punctilious journey couldn't have been possible without K Arun Prakash on the mridangam. The languid and captivating "layam" that Arun Prakash helped create around Thamarakkad's music was gripping, aesthetic and technically balanced. And what emerged that evening was probably what Andrei Tarkovsky would call "sculpting in time". It was an abstract portrait of not only the raga and the composition, but also the idea of layam.
My gaze alternated between Arun Prakash and Thamarakkad. There were moments of intensity, moments of silence, the sudden spurt of sound and rhythmic formations, lazy waltzes, abrupt stoppages and so on. Clearly, Thamarakkad couldn't hide his joy about the resonance between his voice and that of Arun Prakash's mridangam. Can somebody write poetry with percussion?
That is Arun Prakash! Very unique in any part of the world.
Among all the mridangists of the contemporary generation, Arun Prakash has always been exceptionally amusing to watch, primarily because of the poetic fluidity of his style and the interplay between sound and silence that he creates. Sometimes slow lone gentle strokes and long pauses, sometimes just some gumkis, and sometimes riveting grooves that accelerate like a sports car without over-speeding, and sometimes strokes that sound like perfectly-timed syncopations. And the most beautiful aspect is that the kalapramanam (tempo) remains the same throughout, with metronomic precision. Arun Prakash's percussion is sheer poetry in motion.
In Carnatic music, Arun Prakash is one of those few mridangists who play for the song – both the lyrics and the raga. Coming from the great Palani Subramania Pillai school of mridangam, both philosophically and technically, the approach is not alien to him because his guru MN Kandaswamy Pillai, was one of the foremost torchbearers of the Palani style. However, what we see in him now is a style that's unique to him. It has evolved over the years since he began playing at the age 11. Today, his style is an all-encompassing idiom by itself. Almost like the art of making mandala painting by Tibetan monks.
Raised in an eclectic atmosphere of music, Arun Prakash's entry into the world of mridangam was accidental. His father, L Krishnan was a carnatic musician and composer at All India Radio (AIR). A disciple of the legendary musician GN Balasubramaniam, he has composed music for innumerable albums sung by Bombay Sisters, Dr. M. Balamurali Krishna, Vani Jairam and so on. During one of his many visits to the AIR as a young boy, Arun Prakash randomly played some strokes on one of the mridangams lined up in the music room. Even before his father could stop him, MN Kandaswamy Pillai walked in. He too was an artiste at the AIR.
"Who played the mridangam?," he asked.
Even as his father was about to say sorry for his son's playfulness, Kandaswamy Pillai asked, "Is he learning from anybody?". Kandaswamy Pillai had noticed that Arun Prakash was playing with his left hand.
"I am planning to send him to you," said his father, although at home there was never a talk about learning any instrument. "Even till date I don't know why my father said that," says Arun Prakash.
"Bring him home on Sunday" Kandaswamy Pillai said.
And that's how his journey into the world of percussion began.
When he reached Kandaswamy Pillai's home on Sunday, he saw a big mandapam for Palani Subramania Pillai, where Pillai sat near his guru's photo. Since that day, "I never sat on a chair because it was like a temple," Arun Prakash reminisces. Kandaswamy Pillai was his only guru. "He didn't take a single pie from me as fee."
Arun Prakash started playing at the age of 11 in 1979. He still remembers his first concert with Mandolin Srinivas, who was a year older. He also vividly remembers TM Krishna's first concert at the Music Academy as a young boy for which he played the mridangam, and the many concerts that he played for Sanjay Subrahmanyan since the latter was just 18. Then on, he has played for almost all the major musicians of the past and present such as TN Seshagopalan, KV Narayanaswamy, DK Jayaraman, DK Pattammal, T N Krishnan, VV Subramanyam, Lalgudi Jayaraman, TV Sankaranarayanan, TK Govinda Rao, Sanjay Subrahmanyan, Dr. S Sowmya, Ranjani Gayatri, TM Krishna, Amritha Murali, Ramakrishnan Murthy, Bharat Sundar, Ritwik Raja, Vignesh Eshwar, Aiswarya Vidya Raghunath, Brinda Manickavasakan and so on. As seen in many concerts by TM Krishna, Suguna Varadachari, Vedavalli and Amritha Murali, he makes a great duo with violinist Shriram Kumar.
Excerpts from an interview with Arun Prakash in Chennai
Since you have the most unique style of percussion in Carnatic music, let's start with that. How did it evolve like this?
I have been playing the mridangam for the last 43 years and in the present style for probably 20-25 years. I think the change was gradual. In the first phase of my career, I had been playing what was expected of a mridangist. However, somewhere in the middle of my career, I started thinking that I should go with the "raga-sound" of the Krithi, not the tala; and at the next level, that of the lyric. I started analysing both of these because fundamentally I am a lover and analyst of music. That's how the change began.
Since I also compose and sing a bit, I generally look at how a composition is structured and how the melodic, rhythmic phrases and the lyrics go hand in hand. My idea is to highlight the composition and the artist who sings the composition. So, when I started playing like that, fortunately or unfortunately a lot of silence also came into my style since silence embellishes the music. Sometimes more than the sound.
So, it just started like that?
One of those days, when violinist Shriram Kumar and I were talking about music, he appreciated the way I was playing and suggested that I could pay more attention to the lyrics and see if I could do something more than a regular mridangist. He said if I appreciated the lyrics more, I would be able to enjoy the music more. It was just a general remark and he didn't ask me to modify my style or anything. Probably that could have triggered the change, that could have made me think differently. And, now I cannot think of playing in any other way.
Was the change gradual?
Yes, it was gradual and I guess it's still changing. There are many more things to learn in the lyrics as well as the melodic structure even now. For instance, the other day, while I was playing the Bhairavi swarajathi (the concert by Thamarakkad Govindan Namboodiri), knowing the length of the krithi helped. I knew that if I started playing everything in the beginning itself, I was going to repeat myself over and over again for the remainder of the krithi. Therefore, I decided to paint a different portrait along with the musical sound of Namboothiri's song and Shriram Kumar's violin, who incidentally knew the krithi inside out. So, I thought I would have to accompany both. The structuring of the melody and the lyric is a gradual step-by-step process. The kriti slowly builds up into a climax in my opinion. So, my plan was to develop rhythmic syllables and slowly build it up as the krithi presented its true big self. That's how I played that day.
This might not happen for the same swarajathi on another day. I may get some other ideas. As you know, these are spontaneous. The way a musician sings and starts the kalapramanam (tempo) is also a deciding factor. For a kalapramanam like that of Namboothiri, I would want to space out the music by the rhythm and make it more comfortable to listen to. More importantly, when I play, I also want to ensure that the lyrics are heard well. There are instances when one has to be soft and others, when one has to be hard. Many people tell me that I play softly, which is not true. In my opinion, I play quite aptly!
When you say "playing to the lyric", are you referring to the raga as well?
Yes, it's like multi-tasking. When we play like that, I think the song gets highlighted and in the process, the musician too gets highlighted.
But what will happen if your sub-accompanists don't get what you are doing?
Sometimes it can be difficult. So, I generally play with percussionists who are used to my style. However, even people who are new to my style easily pick up the change when I start playing and adjust accordingly. That's usually how it works when I play outside Tamil Nadu with artistes whom I am not very familiar with. I guess I don't usually have a big problem on that.
Did this style emerge because you are originally from the "Palani School" who's known for his poetic beauty?
Definitely yes. Basically, Palani style is to embellish or highlight the musician. Madurai Mani Iyer had called him a "Tyagi" (referring to the sacrifice he made to highlight the composition and the musician) and even a candle that burnt itself up to give light to others. That's definitely my foundation too.
Was your Guru MN Kandaswamy Pillai also like that?
Yes. Very much.
Did he also employ the famous sollkettus from the Palani school?
Yes, even more. But more than the solkettus, the wisdom for what to play where. If you practise a lot of sollus, you may end up playing them indiscriminately wherever you have a chance and you might forget the big picture.
Yeah, some mridangists have a very busy style that makes music less enjoyable
Yes. Many people think I am against sollus, I am not. You can and must play them, but at the right place, at the right proportion. Otherwise, it's a wasted effort.
So, where do you use them?
Only when it's required. Probably in Thaniavarthanam or in a fast-paced song. Ultimately, only when the musical sound demands it. The structure of the sollu should compliment the rhythmic gait and melodic gait of the music.
But in concerts, you still don't speed up beyond a point.
I don't want to. Some musicians tell me that even if a mridangist starts slow, it will certainly pick up speed at some stage. Fortunately or unfortunately it doesn't happen with me. In my style, I would love to maintain the kalapramanam (tempo) constant throughout the krithi. You start in any kalapramanam, I will maintain that. If you maintain it throughout a composition, then your kalapramanam is "sudham". Most often, people start in one tempo and a little later, it will be faster. I am not against it, because we are not machines. Some people do tell me that a little speeding up will only be good, but I don't want to do that.
So, that means when you accompany them on the mridangam, the singers have to mindfully adjust.
Yes, they will choose a kalapramanam that will be consistent for the entire song. But sometimes, I also go with the wind because some people tend to "go there" and even if we try to pull it back it would be difficult for them. Me forcefully doing that might not be fair to them. As I said before, the basic aim of the mridangist is to keep the main singer and everyone on stage comfortable. For instance, in a Thaniyavarthanam if I play a kuraippu and they are not playing it, I am not going to keep on playing it to expose them. You have to immediately change and go with what they are comfortable.
What about some of those fast singers? Wouldn't you play with them?
I am ready. I have to get accustomed to that situation. As a mridangist, I have to be equipped to play for all styles.
Won't you feel uncomfortable?
No, I don't think so.
You used to play with Sanjay Subrahmanyan for long. Did your styles match?
Yes, they did. His style of singing is more of madhyama kala (medium tempo). When I used to play with him I always loved his proportion in presenting the concert. I am basically a big lover of raga alapanas and I listen to the ragas on stage whoever is the singer. I still can't forget his raga renderings when I played for him.
By sticking to your unique style, aren't you restricting yourself to a few musicians these days?
Not really. I believe I should have the ability to accompany every one and still maintain my style.
Who are the regular singers that you play with
Vedavalli Amma, Rama Ravi Mami, Suguna Varadachari Mami, R K Shriram Kumar, TM Krishna, Amrita Murali, Aiswarya Vidya Raghunath, Vignesh Eshwar, Ramakrishnan Murthy and many others. Whoever I play with, I would give my 100 per cent to highlight the music and the musician.
From what I have noticed, you are also very nurturing, particularly towards the younger artistes. In fact both you and violinist RK Shriram Kumar.
Yes, we both try to highlight the composition and the singer. The artistes we play with are singing well. I used to jocularly say that while performing, I will be writing an imposition "they are singing well, they are singing well, they are singing well…" during the entire concert. My aim will be to highlight their music and make people say how beautifully she or he is singing.
The Thamarakkad concert was very special. You both suited each other very well. I heard that he particularly asked for you.
His poise and calmness is very beautiful. I was playing with him for the first time. I haven't even seen him before.
Who are the Masters that you look up to — both vocal and mridangam?
Palani Subramanya Pillai, C S Murugabhoopathi and Palghat Mani Iyer — the Trinity of mridangam. Of course, also all the great masters because they have paved the path for us. In that path, whatever creativity comes our way, we should employ and create a style.
Since you are originally from the Palani School, what's that single quality that you imbibe from the Mani Iyer School, which is supposedly quite a different idiom?
The silence. When Mani Iyer plays, he knows where to use silence. The aptness of silence. He never played long Thaniavarthanams like we do today. He was of the view that whatever you want to convey, do it in 15 minutes, 12 minutes or 10 minutes. I like that attitude about him because we are not doing a Thaniyavarthanam concert, it's just a part of the concert. If it's a Thaniyavarthanam concert, you can play for 45 minutes or even an hour.
What was the predominant difference between the Palani School and Mani Iyer school?
This question requires a Lec-Dem to answer [laughs]. Both of them had different thought processes when it came to accompaniment and Thaniyavarthanam. I would say both believed in their art and were never insecure which is very important for every artist. Growing up in Palani Anna Bani, it was a delight to listen to his creative support, embellishments and of course his unbelievable korvais. For example, the way he played for GNB, Semmangudi, Madurai Mani Iyer or Alathur Brothers were master classes in mridangam accompaniment.
People say that Palani was a genius and that one can't play like him. Is it true or is it the typical reverential exaggeration that fans indulge in?
Of course, he was a genius. I think his accompaniment style has not been researched properly. I am planning to listen to a whole recording of Palani anna and give a Lec-Dem as to what he might have thought or what might have come to his mind while playing the mridangam in a concert. There's a wedding-concert with Semmangudi and TN Krishnan that I want to study.
Palani's sollkettus were very famous, and they are still famous.
His solkettu lessons are not easy. They are very scientific. That's the genius of Palani. I think I will have to do a Lec-Dem on that too. His sollkettus are always in tune with the music. Their structuring is not just rhythmic but also musical and hence whatever sollus you put, they won't sound harsh or unconnected with the music. That was his greatness. It's a big tradition called the Pudukkottai Bani founded by the great Manpoondia Pillai. Dakshinamoorthy Pillai and Palani Muthiah Pillai were great musicians of that Bani.
Do you use them in your playing
I try.
So people who know Palani style will recognise them
Maybe if I play that correctly (smiles).
Any special treatment to the mridangam to play like the way you do?
No, normal mridangam (smiles). Not yet tried bolt-and-nut mridangams.
I have read or heard somewhere that your change of style might have happened because of a finger injury.
No no, nothing like that (laughs).
Coming back to your style, I find it like minimalism in art. As if there's an air of Zen to an otherwise reverberating sound. Is this idea of minimalism reflected in your life and approach to art in general too?
Probably yes. I have no excessive desires for anything in life. I have to do a lot in laya and learn more about the kriti structures. That's my main focus. I hope I don't waste time (laughs).
Are you a minimalist in aesthetics too?
My interest is not to demonstrate my skills, but how to make the music sound beautiful.
Is the approach same while you compose as well?
Not necessarily. For instance, when I am commissioned to compose music for dance, I would have to go with what the dancer wants. But when I compose for the lyrics, I go by whatever the lyrics demand. Most of my korvais are laya-oriented in the sense that it has to be worked-out and played. You just cannot take it and play it — because for me laya is something that needs to be practised. It's a big process. My definition of laya is not that easily attainable. Actually, I am not able to play those types of korvais even in my own concerts because that type of laya requires understanding from everyone else around you on stage as well.
Probably that's why I haven't seen in your concerts the types of complex korvais that you have presented in your Lec-Dems.
Yes, because I depend on somebody else's tala to play. If I am dependent on somebody else's tala, I can't employ the intricate kind of laya that I usually post on social media.
But can't you collaborate with some singers and present these Korvais in concerts?
Yes, but they will have to practise my korvais for many days to get 100 per cent grip on the laya. I have been working on laya from 1994-95. (Demonstrates an example in Misra chap tala)
All this high thinking and hard work is alright, but do audiences really understand all this? Do they experientially feel anything different?
I guess some do. Some people do come and tell me that what I play sounds meditative. Some say that although they don't understand the intricacies of tala, they could feel some orderliness and "correct thing" happening.
You need enormous concentration too, right?
Yes. Very much.
Sounds like unachievable ideals
(Laughs). With passion, respect, hard work and humility towards the art, it's achievable by everyone. My aim is to show all the possibilities of laya.
I have noticed Jazz drummers also employing our korvai type complex, but groovy, formations. Are they this complex?
Yes, they are complex, but not at this level. They often make cross rhythms and make it sound more complicated. I more importantly like their modulations which are highly aesthetic and musical.
But they don't sound easy.
Yes, it's complex and not easy at all because they are not on the beat, they are often off-the-beat and quarter and three-fourth beats etc. At the same time, they will be in perfect laya.
Can you do the off-beat thing on the mridangam too?
Yes, we do it a lot. We do a lot of things like cross-beat etc. The most important thing, however, is where to employ them. Some people might do it when a sober thing is happening. That would clearly sound inappropriate.
You can do those things, probably when a complicated swara pattern is happening. My point is always play what the music demands and play whatever you would wish to during the thaniyavarthanam.
Have you played some of your Korvai compositions in Thaniavarthanams?
Very few because it would put undue demand on the sub-accompanists.
I am not asking for names, but are there musicians that you think won't suit your style?
Probably yes. There might be people who might not get along well with this kind of playing. For example, long ago, when I was silent during a kriti in an apt place according to me, in a concert the singer gestured to the ghatam player to continue playing. He was accustomed to the non-stop sound of percussion. But the irony was that I was trying to highlight his voice and art and he couldn't get it (laughs).
In rhythm, are there things or areas that you would want to explore more?
In laya, there are a lot of things that many people, including me, haven't explored. I am running my Youtube channel mainly with that purpose. If music students and musicians follow and try to do what I am doing, they will get more grip on the tala as well as the laya. If you work hard, you will get an opening into this beautiful world of laya, it's like a beautiful relationship with a friend.
How do you define the concept of laya to common people?
Laya is pure discipline and beauty.
To make it more specific to music?
Concentration and hard work.
It's still philosophical, can you elaborate?
Perfect kalapramanam. Nobody has attained it. All musicians are striving towards that.
When I did tisram for nadai Pallavis, I didn't get it initially. I had to work on it for months. General people don't do tisram for a nadai pallavi. They do trikalam which is different from tisram for a nadai pallavi. Even when they do, they do tisram for chatusra nadai pallavi. What I mean by nadai pallavi is mainly kanda nadai, misra nadai and sankeerna nadai.
When I tried first, I didn't get anything at all and it was really annoying to say the least. Another thing was it was also not going to sell. In other words, nobody would say that they would accept you as a musician only if you do tisram in a nadai pallavi. And nobody wants it as well. But you should have the conscience as a musician, don't you? Once the great musician Balachandar had said this in a Lec-Dem "Why all this struggle? Who would understand all this." This is how we escape. But we have to have our conscience, don't we?
As musicians, we are wedded to music and we have to work at all levels — laya, music, neraval, krithis, ragas and so on. You have to sing and see. In the same Lec-Dem, he says, for musicians such as vocalists and instrumentalists, "Music is first and the laya exercise comes second" and hence if you go more into the laya, your music would suffer. But for laya exponents like us — people playing percussion instruments — it's different, we have to go deeper and deeper. We have to constantly work on it.
What's your approach to the various aspects of a rendition? Say the compositional part, the neraval, swarams etc?
In terms of the Keerthanam, the kalapramanam decides and I have to highlight the keerthanam. When it comes to neraval, I have to give space because they are going to take a line and explore it to the maximum possible. In keezhkkala (lower tempo) neraval, sometimes you need to accompany with apt gumukis and go along with the music.
Means you don't play too many formations there.
No, I won't. You just go with the music and create more space because the lyrics need to be explored for various melodic phrases. When it comes to melkkala (higher tempo) neraval, it becomes more rhythmic which doesn't mean the earlier phase was less rhythmic. At this stage, you can play apt patterns to support the melody. The same is applicable to swarams as well. For keezhkkala swarams, you shouldn't play melkkala phrases. My guru used to drill into us at this point often. Some people knowingly or unknowingly do that, but it doesn't gel. The idea is for the musician to get more of the raga in the neraval and swara. You play accordingly – just go with the music and not play unnecessary sollus. One of the key factors is to anticipate the neraval and swaras based on the melodic structure.
What about compositions that you are not familiar with?
I would go with the raga.
What about the swarams?
You have to be equipped with sarva laghu patterns and kanakku patterns. In kanakku (arithmetic formations) swarams, you have to be ready because you don't know what they are going to do. You have to be efficient enough by listening to a lot of people playing, and things such as mathematical calculations should be in your mind.
And will the anticipation automatically happen?
Hundred per cent. It has to happen.
Even unknown ragas?
Anything.
What about chittaswarams of compositions that you don't know?
You can easily play along when they repeat it for the second time. A knowledge of raaga phrases would help too.
How do you memorise the long chittaswarams?
You have to keep listening. Whenever I accept a concert, my style is to ask for their sruthi a few days in advance – as a recording because there are different types of Ds and Es. It's like asking "what's your D?" They will sing for two minutes. Then, I would ask for the list of songs that they've decided to sing.
So, if somebody plays out of that list, would you get upset?
No, I can still play. But if I know the list, I will have a plan. For instance if there are two Adi tala kritis with the same kalapramanam, I will have a plan to bring in some variety.
Something different means? What will you do?
For instance, depending on the lyrics and melodic structure, I might go with a different gait.
Other than these variations and patterns what else can you do with the mridangam?
You have the Shadjam note on the mridangam; for certain ragas, the Rishabham is also there, not for all. I am not sure if you had noticed, in the concert with Brinda, I ended the Sriragam Krithi with the Ri – It was almost close to the Ri of Sriragam.
I may not have noticed, but I am sure I would have felt good listening to it.
(Laughs). Yes, the listening pleasure certainly increases. It's very important. Try to be musical, when you can be musical.
Now let's come to your body of work as a music composer. Among others, you have tuned songs by writer Perumal Murugan and Kerala's renaissance man Sri Narayana Guru, which I think were significant because it brought contemporary and reformist texts into Carnatic repertoire. How has been your life as a composer?
I like it, in the sense that I like to tune texts according to their meaning and essence. When I did the "Azhiyum Kaattum" (In Malayalam) by Sri Narayana Guru, I took the help of a friend who knew Malayalam to understand the meaning, the diction and the whole essence of it. When I got the sense of the song, all I visualised was a boat (Azhi means sea) at sea. If you listen to that song when you are on a boat, it will be perfect.
Malayalam was not that difficult, but there was this Bharathiyar project in which I had to compose for a verse 'seppu mozhi padinettudaiyaal enil sindhanai onrudaiyaal' which was translated into 18 Indian languages, some of which I haven't even heard of. I had to tune for 18 different lyrics 18 languages. That was a real challenge.
In fact, I was a little afraid after accepting the offer whether I could pull it off. Anuradha Sriram, who knows a lot of languages, was the singer. To familiarise ourselves with the language, she and I took a lot of classes from the people who wrote those texts for the project. Even after recording the songs, the writers came up with corrections in diction etc that we had to incorporate by recording them again.
It was not just about the unfamiliarity with the languages. I also had to go with the nativity of the music in each language. That required quite a bit of research. I also had to use different instruments to reflect the nativity despite budget constraints. Although there was a suggestion to use the keyboard to simulate those instruments because of the limited budget, I didn't agree. We used original instruments. Another problem was that in most of the places in the North East the common music would sound like Mohanam (pentatonic scale).
Since you mentioned music and their cultural and native contexts and since you are a Carnatic musician, when you listen to music from other cultures and places, do you hear ragas in them? How has been the overall cross-generic listening experience?
Sort of. Sometimes I wouldn't call it a raga in the carnatic parlance, but a scale. Any music will have a scale. And there are very different scales. From a young age, I have been listening to a lot of various genres of music because of my father. I was exposed not only to Carnatic music, but to many other genres as well. Since my father lived in Delhi, he had heard a lot of ghazals, Hindustani etc. He was also a big film music buff. He used to work with music director Rajeshwara Rao. So, the household music was eclectic. I am a big fan of Ghulam Ali, Mozart, Beethoven etc; but I wouldn't mix Carnatic with any of these. I was listening to a Mahler Symphony the other day and the first eight bars were unbelievable. The symphony is 80 minutes-long and within the first eight bars, the composer is revealing what's going to come. It's like "be prepared, be ready, I am going to give this kind of stuff."
Do these musical experiences influence your composing?
Yes, 100 per cent. I am also a big fan of movie re-recordings (background score) and Ilayaraja is the "be all and end all" of re-recordings. His re-recordings are unbelievable. It's not non-stop music. The music has to enter and exit. Both should be perfect.
What's your core compositional repertoire in Carnatic? I have heard TM Krishna singing your Pallavis.
I have composed a lot of Pallavis and many musicians such as Krishna, P. Unnikrishnan, Ramakrishnan Murthy, Amrita Murali, Bombay Jayashree Vignesh Ishwar, G. Ravi Kiran etc have sung them. Ranjani Gayathri also have sung a lot of my Pallavis.
Oh, I didn't know that you have played with Ranjani Gayathri. Aren't your styles different?
Oh yes, a lot. I have played a lot of their recordings as well. I enjoy playing for them a lot.
So, did you change your style when you played with them?
No, in every concert I would try to do my kind of "portrait!!!"
And they didn't have a problem with that?
No, they appreciated it very much. Actually a friend used to jocularly say "Sir every singer will like your playing, only mridangists will have a problem" because it's not in accordance with the usual practice (laughs).
What about Thaniavarthanams? I have seen an old video, in which you and Sriram Kumar are also present, where TM Krishna is saying that it doesn't need to be composition-based.
I have always enjoyed my concerts with Krishna and I would say that he is one of the few evolved musicians around. I love his raga renditions, particularly his kalapramanam in them. In many concerts he has asked me to play rare talas on the spot. I particularly remember a concert in 2012 in Bangalore where he told me that he wouldn't like me to play the thaniyavarthanam after the kriti and asked me to play in a tala as a stand alone piece. I asked to suggest the tala, but he asked me to choose even that myself. The whole thing happened right on the stage, in front of the audience.
I said that we would ask the audience to choose the tala. Krishna then asked the audience to suggest any thala other than the usual Adi, Roopaka, Mishrachappu and Khandachappu! The suggestion from the audience was "Khanda Dhruvam". It's a bit confusing because of its anga structure. Then I asked the person who suggested the tala. "Sir, is it in one kalai or two kalais? "Play it in two kalais" said the person from somewhere at the back. Krishna said "pocheda" (means you are in trouble) and Shriram Kumar asked me "did you ask the kanjira player Guru Prasanna if he could play along?''. I asked him, and he said he was fine with the idea. He was okay because I would start and he would get about three minutes of my first round to figure it out.
I had to do everything in that thaniyavarthanam — korvais, nadais, koraippus, moharas, farans…and by God's grace everything came out well.
Why I am telling you this story in detail is because a mridangist should be equipped to play the thani in any tala or any idam, otherwise you should not get on stage. The same is applicable to the violinist as well. For instance, if a singer composes a Pallavi and sings a neraval in raga Naganandini and skips Ri while you go up and Ni while you come down, the violinist cannot say "it's out of syllabus." Sanjay and Sowmya also have given me thaniavarthanams in rare talas as a surprise. Musicians such as Chitraveena player Ravi Kiran do impromptu Pallavis on stage. When he himself doesn't know the pallavi, how can he tell me what he is going to play? But, I still have to play. So you have to be equipped and your mind should be always immersed in music, 24/7. My mind is alway in music. Only then can you meet such challenges. When I was on tour with Ravi Kiran, he always asked me to do thaniavarthanams in challenging talas and eduppus.
But do these things that are challenging to musicians result in audience-appreciation that's commensurate with your efforts? The question is if complicated stuff translates into good musical experiences.
You have to tell them what you are doing. In my opinion, you have to nurture the audience to the next level of musical experience. Slowly they will follow. I can even see some mridangists slowly following my style.
That's true. N. Guruprasad on ghatam has become almost like your reflection, particularly when you guys are together.
Yes, when he plays with me he follows me exactly the way I play because we have been playing together for so many years. He himself has told me. He has been able to appreciate the value behind my style. However, I also know that many people might criticise my style saying I am not playing at all, but such comments wouldn't hinder my creativity.
You would have loved to play with past masters such as MD Ramanathan, wouldn't you?
Yes, for that poise and calmness, 100 per cent! Once a musician told me that when I play, it's as if I am telling him "take your time, enjoy and sing".
Once I had a conversation with a sub-accompanist who told me "You are trying to make the kalapramanam very correct, but sometimes only if you run, you get the interest and response from the audience". It was about making it faster than actually what it was. Once, when Krishna sang about 50 rounds of swaras continuously in that vintage Semmangudi pattern, I kept the same kalapramanam and Krishna also understood that I was not going to run (speed up). Everything happened in an orderly way. Perfect. Not pushing it, not trying to make it faster, not trying to show something is happening etc. And there was no dip in the response from the audience too. It was the same. If everyone is together, it will have its effect. If you are confused, people will get confused. If you are doing whatever you want to do in a more confident, clear and efficient way, it will definitely reach the audience.
What are the other forms or genres of music that you listen to?
All kinds of music. I love western classical music and I am a very big fan of film music as well. I also analyse film music and love the yesteryears composers in Hindi. I am a huge fan of SD Burman, Madan Mohan and Salil Chowdhury. In fact, they are the "trinity" for me in Hindi film music (laughs). In Tamil, KV Mahadevan, MS Viswanathan, G Ramanathan and of course, Ilaiyaraaja.
Can't some of the unusual raga phrases that they have used be used in our renditions?
Yes, you can, but the core sound of Carnatic music shouldn't be compromised. In my humble opinion, Carnatic music has to be "Carnatic".
Since you mentioned Carnatic sound, I find that excessive Carnatic mannerisms by singers makes a stereotype out of Carnatic music and even deters a lot of people from listening. I mean, it can be a barrier to enjoying music. What do you think?
There has to be a balance. The lyrics have to be clear. MS Subbulakshmi was an epitome of that — the way she pronounced the text in any language. Very few musicians have done that. As you said, many add some mannerisms and make it unclear. In fact, in an interview, Dr M Balamurali Krishna had asked this question: why are people making unnecessary sounds? Some people do it even in the lyrics, thereby making it unclear to listen to. In some songs this 'Carnatic sound' sound nice, but in some they are excessive.
Yes. For example, when you are singing a lighter raga, you don't need to Carnaticise it to the extent of a Todi or Dhanyasi. At the same time, if you don't sing Carnatic ragas without the core Carnatic style, they will sound too light. When you sing ragas such as Sindhu Bhairavi, Desh etc, you can add a bit of Hindustani touch. There has to be a balance. At the other end of the spectrum, you cannot sing something "ghazalish" and say it's Carnatic.
Since you mentioned Ghazals, I have noticed that many Carnatic musicians are now trying to sing ghazals on social media.
Ghazals have to be sung like Ghazals. Don't Carnaticise them (laughs). I would tell them, you do whatever comes to you well. I have heard rasikas saying If I want to listen to a ghazal, why should I go to a Carnatic musician? Each genre is different. For instance, the accents have to be different for Carnatic and film songs.
Some Carnatic musicians sing film music. Do you think they might lose their core flavour if they keep singing a lot of film music because of the latter's unique demands?
It depends on the individual. As long as you are mindful of the core sound of Carnatic, you will be fine. P. Unnikrishnan is a great example. He doesn't mix styles while he alternates between Carnatic and film music. When he sings Carnatic ragas, they are perfectly within the Carnatic idiom which I have always admired.
What about falsetto? I have recently started noticing that some Carnatic musicians are appearing to employ falsetto.
It's sad. That's all. Our music is open-throated. In that open-throated style, you will have to bring the bass and higher notes. Probably some are shifting to falsetto because in open-throated singing, they might not get the exact sruthi. In open-throated style, to be in perfect pitch you have to really open up. Take the music of Chembai Vaidyanathan Bhagavathar and his pitch perfection in all ranges. I often wonder how hard he could have practised. People might think he was just singing freely and it came naturally to him; no, he would have practised so much to get every note in that sruthi. That's why people loved his music. Once I heard his Pantuvarali and I was astounded. In Tamil, we term such a voice "venkala kural" (brass voice).
Coming back to composing, how does the tune occur to you? As a melody or raga?
While composing Pallavis, the raga phrase comes first and then I fit it to a lyric, then tala etc; but for an existing lyric I have to compose the tune. The latter is difficult because you have to fix a raga according to the sound and meaning of the lyrics. Sometimes, everything may sound correct, and sometimes everything may sound wrong too. There are occasions when I have changed the ragas after composing because I didn't feel fully happy.
Is the approach the same with texts such as that of Perumal Murugan and Narayana Guru too? I ask this because they sound so apt for the text.
Yes, very much.
In Perumal Murugan's "Nee Mattume" that TM Krishna often sings, raga Kapi sounds inseparable.
I went through the text, opened the voice recorder and just sang. That's what you hear. I did very few corrections later. It just happened!
Probably because of your training, when you sing it would stay in the raga framework.
Probably yes. If you are composing for movies, you have all the liberties; but for Carnatic musicians generally you have to be in within a framework. My dream project "Solladi Shivashakti" comprising six Bharathiyaar songs which I tuned, orchestrated, and conducted was sung by Smt Bombay Jayashree and released by Rajalakshmi Fine Arts Sri Sathish Kumar. In that, I sang the tune and sent to Jayashree and she sang exactly what I had sung. That was the respect she had for the composer and the tune. I did the orchestration with 35 live musicians. People who heard it liked it very much.
Do you notate when you compose?
No, I just record and share it with the musicians because I want them to sing/play the sound of the notes and not just the notes. Even for the background scores in songs I do the same (Sings a few phrases to demonstrate how the sound is important).
I often ask Carnatic musicians if they wouldn't want to sing songs with emotions other than the usual bhakthi. How open are you to composing songs with the flavour of say romance or even a little eroticism?
I have composed a lot of Pallavis with romance as the theme. Once Krishna wanted me to compose a romantic Pallavi in raga Husseini for his concert at the Music Academy. I got the tune easily, but was unable to fix the text easily. Whatever text I came up with didn't match the tune. Then suddenly this line popped up: "Thedinen kidaykkavillai varthaigal" (I have looked for words everywhere, but couldn't find them)and used it as the poorvaangam (first part) and the utharaangam (second part) completed the expression of romance: Aval aazhaginai varnikka (to describe her beauty). It meant her beauty was beyond any expression I could think of. Krishna was very happy.and Sangita Sivakumar, his wife and Carnatic Singer, told me: "Arun this pallavi is highly romantic".
So you don't have a problem using such "Un-carnatic" emotions.
Not at all. Another time I wrote a pallavi which went like this: "Nambikkai inriye Vazhvillai" manidha unarndhiduvaai [thannambikkai inriye] on hope and self-confidence. Usually the second half adds more meaning.
How can you make layam more appealing to the lay-audience?
You should see that it sounds nice to the ears. I don't think one shouldn't play complicated stuff, but it should be enjoyable by common people. At the same time, the latter should also try to learn more about them and listen with an enhanced sense of laya-aesthetic.
Do you need to be a mathematician to be a good mridangist?
Not really.
How do you respond to the usual allegation that Carnatic music is exclusive and its ecosystem is endogamous? Can an example of social music such as El Systema of Venezuela that has produced world-class classical musicians happen in Carnatic?
I don't think anybody is stopping anybody from learning Carnatic music. I wouldn't certainly support it. But to make people from all walks of life learn and enjoy Carnatic music, musicians have to go out and teach, I mean to teach people who are not exposed to this kind of music. I think that will help.
Making Carnatic music a subject in school curriculum will definitely work. Familiarity at least at the varisai level can make people more equipped. It can also give some kind of relaxation to kids.
Do you have any favourite musician that you feel happy to accompany?
I play with a lot of musicians. I like everyone's music whom I accompany. Listening and performing with good musicians gives me satisfaction which I can't even express in words.
Percussionists?
I like all the top mridangam legends of today and you know those names. I firmly believe that everyone has worked hard to attain what they have achieved.
And finally, who are your favourite composers?
Definitely the Trinity. I always love to play Trinity compositions. Take a composition such as "Oh Rangasayee…" People ask whether Saint Thyagaraja himself composed all those sangathis in the first line, but I would say you cannot beat the initial line. The basic melodic phrase in the first line itself is sheer genius. I do pooja for Trinity compositions. I have always been a lover of the creator first although the executor plays an important role in taking the creation to the audience.