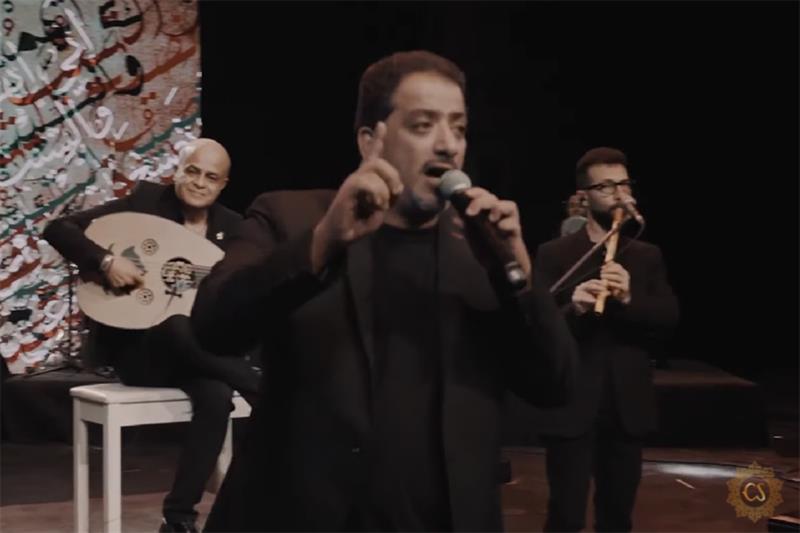 The new music video draws footage from Cairo Steps' latest concert at the Marquee Theatre (Cairo Festival City, November 2022) in which El-Helbawy presented the song in a new musical packaging. 
The release comes ahead of the Cairo Steps' upcoming concerts on 22 and 23 December at the Cairo Opera House, featuring Sheikh Ehab Younis and Ali El-Helbawy.
Released on 8 December, this composition is not the first musical collaboration between El-Helbawy and Cairo Steps' founder and musical dynamo Basem Darwisch. El-Habawy was featured in the band's composition titled Elahi, released on their Diwan Cafe album (2021).
Sultan, the new creative composition, fuses music by Darwisch with Mersal El-Habebti, one of El-Helbawy's best-known songs. The latter was featured in Ahmad Abdalla's multi-award-winning film Microphone (2010) which brought the singer to the limelight.
Cairo Steps' Sultan is a new musical offering however, where Mersal changes the key and blends it into new creative phrasings and arrangement.
While Cairo Steps become important protagonists of the song, El-Helbawy's interpretation that includes segments of recitative and his own improvisations, add important creative color to the whole output. The final result is a signature composition by Darwisch that benefited from a well known song, embellishing it while setting it into new contexts.
Equally, the song's powerful lyrics, penned by Ashraf Tawfik and expressing one's love for a woman set at the backdrop of life and cultural realities and expectations, give the whole composition warm and humane weight.
The composition gathers the known set of Cairo Steps' musicians, with Basem Darwisch on oud accompanied by Rami Attallah (piano), Mulo Francel (saxophone), Evelyn Huber (harp), Rageed William (nay), Mounier Maher (e-bass), Hany Al Sawaf (req), Max Klaas (percussions), Jan Boshra (cello), Reham Mahmoud (viola), alongside violins: Emad Azmy, Radwa Sameh, Shereen Azmy and Nehad Gamaldin.
Cairo Steps has gained international acclaim for its many multicultural layers. The ensemble is a dense carpet, tightly woven with threads representing Coptic culture, Saeedi (or Upper Egyptian) music, Sufi chants, Egyptian and Nubian sounds, jazz, ethnic and classical music. The braided strings speak a single, uniform language, transferring the internalised narrative of their creator to the world beyond the oud.
Since its founding in 2002, Cairo Steps has featured prominent Egyptian musicians, including renowned soloists like Marwa Nagy, Ali El-Helbawy, Monica George, Peter Ghattas, and Sheikh Ehab Younis, among others. 
The ensemble has released five albums and multiple singles, including Oud Lounge (2012), followed by Arabiskan (2016), Silk Road (2016), and Flying Carpet (2017), born of a cooperation between Cairo Steps and the German jazz ensemble Quadro Nuevo.
In 2021, Darwisch and Quadro Nuevo were honored with a German Jazz Music Award for his composition Cafe Groppi in the album Mare. The composition was arranged by the renowned Egyptian jazz pianist Rami Atallah and features Darwisch on oud and Rafat Muhammad on percussion. The Cafe Groppi success took place while Darwisch was producing the album Diwan Cafe (2020-2021). 
Apart from creating music, Darwisch also has a rich portfolio in artistic management and shares his experience through workshops. 
Short link: