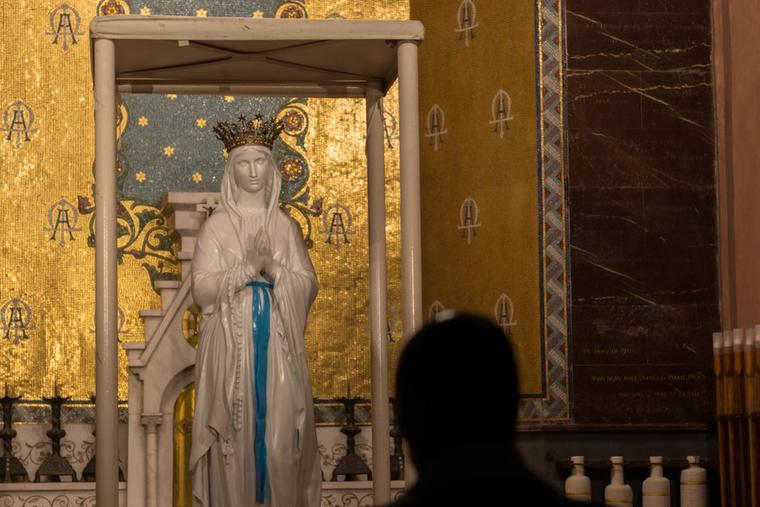 Frank LaRocca is the composer-in-residence at the Benedict XVI Institute for Sacred Music and Liturgy, which was established by Archbishop Salvatore Cordileone of San Francisco to provide practical resources to help parishes have more beautiful and reverent liturgies, and to promote a Catholic culture in the arts.
The recent winner of the ORTUS international choral composition competition, LaRocca was named a 2018 American Prize winner for his A Rose In Winter: The Life of St. Rita of Cascia, a major work for chorus, orchestra and soloists.
That same year, LaRocca's Mass for the Americas premiered at the Cathedral of St. Mary in San Francisco. Since then, the Mass for the Americas has been performed across the U.S. and in Mexico. The CD recording released in September 2022 made its debut at No. 1 on the Billboard "Traditional Classical Albums" charts. 
LaRocca has composed music for a number of other Masses commissioned by the institute.
On Feb. 11, the International Day of the Sick, Messe des Malades: Honoring Our Lady of Lourdes, will premiere at the Cathedral of Christ the Light in Oakland, California. EWTN will provide a live broadcast.
During a Jan. 31 interview with Register senior editor Joan Frawley Desmond, the Catholic composer shared the harrowing personal story that inspired elements of his new work, and he explained how the new Mass setting not only celebrates Our Lady of Lourdes, but also affirms the dignity and steadfastness of those who struggle with illness but never lose "their faith in God's providence." 
You described the experience of composing Messe des Malades: Honoring Our Lady of Lourdes as "a profound spiritual journey." How did you come to take on this project?
This Mass for Our Lady of Lourdes is one in a series of commissioned Masses that I have been asked to do in my capacity as the composer-in-residence at the Benedict XVI Institute. Archbishop Cordileone has chosen specific feast days and other occasions to be recognized through this work, with a special focus on the marginalized, the underserved, people who are often not afforded the special attention that their state in life would merit because they have no voice, no power. 
The Mass for the Americas, the first one the archbishop commissioned, honored the Mexican, Spanish-speaking Catholics in the San Francisco Archdiocese. It was a gift to them, to honor their faithfulness and their annual celebration of Our Lady of Guadalupe. The second, the Requiem Mass for the Homeless, speaks for itself. One doesn't ordinarily associate Masses of great dignity and ceremonial splendor with the life-and-death experiences of the homeless. And I admit I struggled with a conception for the music until I realized I was composing music for the homeless not as we see them — degraded and abandoned on the streets — but as God sees them: each one possessed of an immortal soul and with the potential glory of the most exalted earthly person. 
The third was the Missa Sancti Juníperi Serra. The idea was to focus attention on the true story of the Franciscan missions, not the distorted version that has come down to us in secularized media by people with political agendas.
And your new Mass setting, which will premiere on Feb. 11, the International Day of the Sick?
Messe des Malades honors those who suffer indignity with their illnesses and yet, through the intercession of Our Lady of Lourdes, still maintain their faith in God's providence. It also honors the charitable work of the Knights and Dames of the Order of Malta, particularly in the Bay Area.
The Mass will be held at Christ the Light Cathedral in downtown Oakland. The Order of Malta's medical clinic is located at the cathedral complex, and the Knights raised the funds to open and support free medical care for people of any means or no means.
By holding this Mass for the World Day of the Sick at the Oakland cathedral, the archbishop also recognizes the order's great work.
Pilgrims at Lourdes sing a number of traditional Marian hymns during sacred worship and at vast outdoor processions before the basilica, where they recite the Rosary and sing in multiple languages. Did you incorporate these hymns and other practices into your composition?
Messe des Malades is a Novus Ordo Mass that is sung in Latin, with a degree of solemnity and reverence that might surprise somebody only familiar with typical Novus Ordo parish celebrations.
In the Agnus Dei, phrases of the beloved hymn Immaculate Mary are placed in dialogue with the "Lamb of God who takes away the sins of the world." There's this dialogue between the physical healing associated with Lourdes and the spiritual healing of the Lamb of God.
I gave the Mass a French title and also, to a certain extent, expanded my harmonic palette to incorporate flavors of harmony that are associated with a French style of liturgical music. 
How did you approach this project?
The spark of inspiration came from a very personal encounter with somebody who suffered a long-term illness: my older sister, Carin, who lived with multiple sclerosis for 37 years, until she died in July 2020. When I took on this work, I needed an image to contemplate that was associated with those who courageously battle their illnesses.
My sister was the perfect inspiration. She had an iron will, a fiercely independent spirit right up until the last few months before her death. She moved out to California for what would be the last 10 years of her life, and the two of us began to see each other on a regular basis. 
I was a different person than the brother she knew when we were both living on the East Coast. I had returned to the Church and was trying to humbly live my faith. I prayed often and fervently that God would allow the Holy Spirit to do his work and bring her back to the Church. Before she died, she returned to the Church, made her confession, and received Holy Communion.
Were you both raised Catholic? Was music a part of your family life?
Yes, I was raised in New Jersey with Carin, and my younger sister, Christine, by my first-generation Sicilian father and my first-generation Ukrainian mother, who converted from the Orthodox Church to Catholicism in order to marry my father. 
Until about 1950, my father was a professional musician. He had his own big band at the Hotel Edison in Manhattan. After interest in the big bands waned, he went into the retail shoe business.
But he continued to play casual dates, and every year, as a member of the Kiwanis Association, he'd put on a fundraiser variety show showcasing the talents of other members. That's where I, as a very young child, got to see my father play his trumpet.
And you followed in his footsteps.
I took trumpet lessons with my father and started piano lessons when I was 9. After that, like almost every other teenage boy who saw the Beatles on The Ed Sullivan Show on Feb. 9, 1964, I wanted to be in a rock 'n' roll band. That's what I did throughout high school, though I kept up with my piano lessons, learned jazz harmony and studied classical pieces.
The idea of making my living as a musician took root in college, at Yale, where I studied classical music theory for the first time and greatly expanded my knowledge of the classical repertoire. 
After completing my master's and doctorate [in music composition] at the University of California at Berkeley, I got a position at Cal State-Hayward, where I taught music theory and composition and did what I could on the side to have a career as an artist and a composer — not just an academic composer writing crabbed, obscure music for other academics, but a real public career, writing for classical-music audiences. 
When did you meet Archbishop Cordileone?
We met in 2009, after he was installed as bishop of Oakland. Earlier that same year, I had returned to the Catholic Church after being away for 42 years. 
When I met then-Bishop Cordileone, I told him that I was a composer, largely, though not exclusively, of sacred choral music. He found this very interesting, and over the next couple of years, he had an opportunity to hear some of my music. In 2012, he asked me to compose a Communion motet for the Mass celebrating the 50th anniversary of the Oakland Diocese. 
After he was installed as the archbishop of San Francisco and had established the Benedict XVI Institute, he asked me if I would serve as its composer-in-residence, and I immediately said, "Yes."
Did your early interest in sacred music lay the ground work for your return to the faith?
Yes, but I was never an atheist, I believed in the God of my childhood. It's just that he seemed so remote and silent that I didn't see what he had to do with me or I with him. In 1989, in the midst of a composing crisis, I was so desperate for help that I fell to my knees and prayed, "Dear God, if you are real, please help me now — I am at the end of my rope." That prayer was answered in an unmistakable way, and this experience became the mustard seed leading to my eventual return to the Church 20 years later. The crux of this crisis was figuring out how to break out of the rigid, dry academicism of the music I had been trained to write. How to reach back into my given musical nature, to compose music with a more traditional kind of beauty? 
At the time, I couldn't find any greater justification for writing this more traditionally beautiful music except that it was what I liked, and that was a very flimsy foundation on which to push back against the monolith of academic modernism. This problem sent me to the realm of philosophy and theology and, ultimately, to the doorstep of the Church. I saw that the Catholic Church alone offered an integrated account of beauty, truth and goodness, and the Church alone had the moral authority to truly forgive my sins. This is how I became a faithful and obedient Catholic — the search for beauty in music led me to the ultimate source of beauty.
Like your sister, you were on a long pilgrimage that led to your own spiritual healing. 
I should mention that, after I started the Mass last July, I was hit with a case of severe appendicitis that continued for many months. Even now, after surgery, I am still suffering the aftereffects of this truly devastating illness. 
I had never been seriously ill before, and it gave me a window into the experience of people who truly suffer from physical illness. That opened the door to understanding how important the simple kindness of visiting the sick can be. I was amazed at the consoling power of simply having my wife, Lucia, at my side through my three hospitalizations. And that third time I returned to the hospital, it finally occurred to me that I should be praying for all the other people on my floor who were dealing with illness. That opened wide a new place in me spiritually. 
Don't you think our youth-oriented, individualistic culture encourages us to fear illness and even deny the inevitability of growing old?
Yes, and I am ashamed to say that when my sister was diagnosed with MS in 1986 and my parents called to tell me, I didn't call my sister for over a week because I was completely freaked out by the thought of being related to somebody who had such a serious illness. So, in my experience, that fear is real. But by the power of the Holy Spirit, I feel like the final vestiges of these fears in me were purged when I found spiritual kinship with those who suffer.
What is Our Lady of Lourdes' message to the Church?
What stands out for me is how she addressed herself to St. Bernadette. She told Bernadette, "Tell them I am the Immaculate Conception." As the Immaculate Conception, Our Lady herself is a living symbol of the sanctifying power of our Lord Jesus Christ. Through the apparitions and then the spring at the grotto at Lourdes, she becomes an intercessor both for those in need of faith and those in need of physical healing.
The apparitions took place in post-revolutionary France, just as the culture was beginning to acknowledge again its Christian roots. And it helped the French realize that destroying the Catholic Church would be a tragic mistake — an act of cultural suicide. St. Bernadette provided for us an example of the childlike simplicity of heart that we have to put on in order to receive the gift of faith.