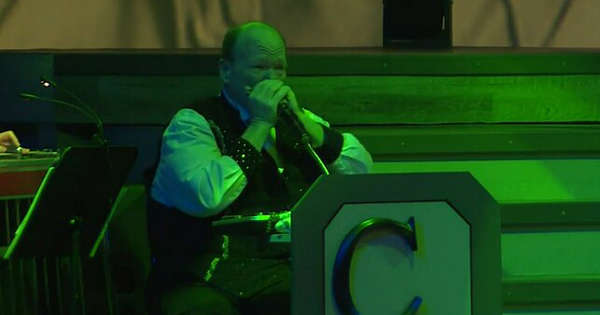 © Provided by Knoxville WVLT-TV
Longtime Country Tonite performer Mike Caldwell passed away.


SEVIER CO., Tenn. (WVLT) – Longtime entertainer and musician Mike Caldwell died, according to owner of Country Tonite, Jeff Taylor.
Caldwell performed harmonica at the theatre in Pigeon Forge for 25 years.
He performed with many legendary entertainers, including Loretta Lynn. WVLT News spoke to Caldwell in October about his performances in Lynn's band.
As the news of Lynn's passing made its way to her former harmonica player, he couldn't help but think there was more music to be played.
"The first thing I thought of was, 'Well, now that she's in heaven, I bet she'll write a heck of a song," said Caldwell.
The Contry Tonite cast and crew released a statement on Caldwell's passing as well.
The Country Tonite family is heartbroken at the unexpected passing of our longtime cast member and friend Mike Caldwell. This immeasurable loss reverberates far beyond our stage.

Mike's Country Tonite career began during our opening season in 1997. In addition to being one of the world's most gifted harmonica players, Mike's contributions also include several years as our musical director as well as many seasons as a featured instrumentalist.

Mike's talents filled the spotlight show after show as he wowed our audiences with his rendition of "Orange Blossom Special." His personality shone through each of his performances as he entwined a little comedy into each presentation. A few songs later, Mike would play his heartwarming interpretation of "Amazing Grace." His range as a performer was astounding while, as an individual, Mike was humble and gracious.

He leaves behind a musical legacy that also includes 10 years touring with Loretta Lynn, having traveled thousands of miles with the Coal Miner's daughter in performances around the world. In addition, he made countless appearances on "Hee Haw," "Nashville Now" and "Opry Live," just to name a few. As a respected musician, he had the opportunity to play with many other country legends including George Jones, Conway Twitty and Boxcar Willie.

"Mike loved music, he loved playing the harmonica, and he loved entertaining. We are so very glad that he was able to do what he loved for so many years and to realize so many dreams here on our Country Tonite stage," said Executive Producer Jeff Taylor. "The void Mike leaves on our stage and in our hearts can't be filled—that's the mark of a remarkable human being."

We'll forever remember our friend Mike as a cheerleader, always encouraging others, both on and off the stage.

As our 2023 season approaches and our cast returns for rehearsals, we know Mike's absence will be felt so very strongly. It will be an emotionally difficult time for everyone, but we know Mike will be cheering everyone on as he would want the show to continue entertaining our guests. Be assured there will always be a place on our stage for Mike Caldwell.

Mike believed that "Good music is like a good conversation piece. Listen without dominating. It's about feeling, creating, and connecting with an audience. It's about brightening their day along the way." Our Country Tonite cast will abide by Mike's musical philosophy as we honor his memory. Each 2023 Country Tonite show will be performed in his honor. We'll feel the comfort of his presence and know he is bobbing his head long to every note of every song.

Our hearts go out to Mike's wife, family, friends, fans and the many lives he has touched over the years. Godspeed, sweet friend.

Country Tonite