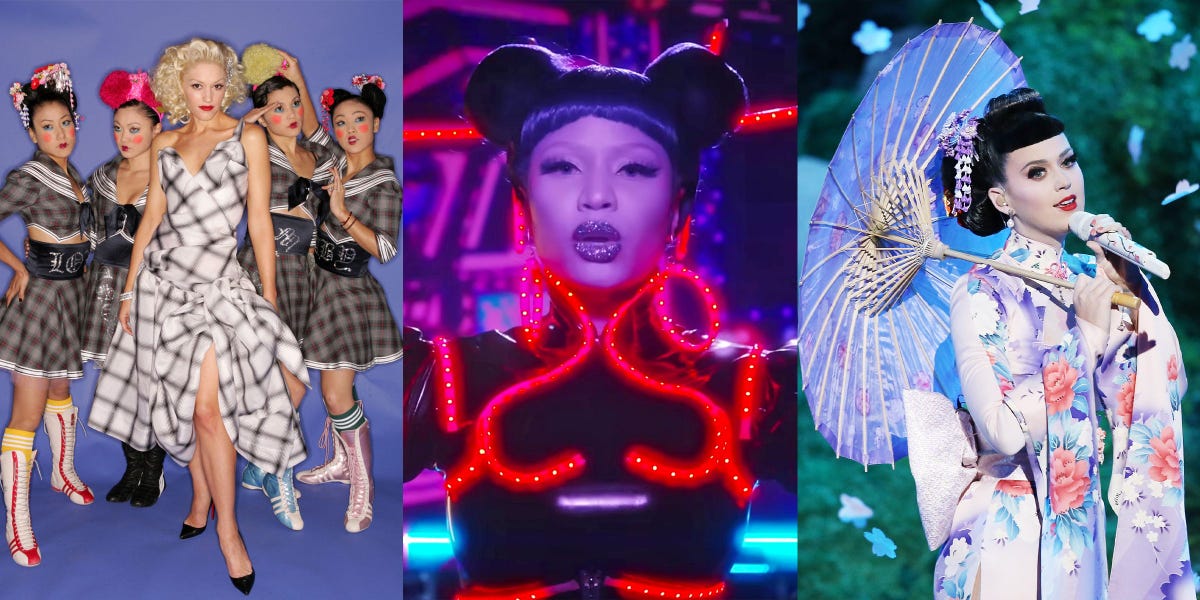 Gwen Stefani recently came under fire for saying "I'm Japanese" in a new interview.
Stefani is just one of many pop stars who have been accused of cultural appropriation over the years.
Insider spoke to experts on race and advocacy about this offensive trend in pop music.
Pop music has a cultural appropriation problem, and we were reminded of it again this week by Gwen Stefani.
Stefani brought the topic again to the fore by telling an Asian American journalist in a recent interview, "I'm Japanese."
During an interview with Allure magazine, Stefani was asked to reflect upon her Harajuku era in the early aughts, which has received criticism for co-opting Japanese aesthetics and objectifying her backup dancers — four Japanese and Japanese American women known as the Harajuku Girls. Stefani has also been criticized for appropriating African, Indigenous, and South Asian cultures in the past. 
"If [people are] going to criticize me for being a fan of something beautiful and sharing that, then I just think that doesn't feel right," she told Allure's senior editor Jesa Marie Calaor.
Pop music is a 'repeat offender'
Robert Buscher, a lecturer at the Asian American Studies Program at the University of Pennsylvania and chapter president of Philadelphia's Japanese American Citizens League, told Insider he was "horrified" by Stefani's latest comments. He was also quick to note that she's far from the only culprit.
"Pop music, in general, seems to be one of the repeat offenders as far as an art form that tends to commercialize and appropriate Asian cultural aesthetics for the purpose of profiteering," Buscher said. "We see this time and time again."
Indeed, Nicki Minaj's 2018 music video "Chun Li" was accused of parroting an "insulting Asian fetish." Coldplay and Beyoncé presented India as "a white person's fever dream" in 2016's "Hymn for the Weekend." Major Lazer's "Lean On" (2015) and Iggy Azalea's "Bounce" (2013) have faced similar scrutiny. The list goes on.
Buscher specifically called out Katy Perry's performance of "Unconditionally" at the 2013 American Music Awards, which saw her wearing a kimono, holding a parasol, and performing dainty choreography.
"The lyrics are talking about loving someone unconditionally, and then she dressed up somewhat similar to what a Japanese geisha looks like," Buscher explained. "[She's] reinforcing these ideas about Asian women being submissive and demure. Objects."
Reinforcing negative and dangerous stereotypes
Much like Perry's 2013 performance, Stefani's employment of the four Harajuku Girls plays into "this idea of a sexually available, commodified Asian female body," Buscher said.
While the Harajuku Girls would frequently flank Stefani at red carpet events and photoshoots, the women never spoke in public; Korean American comedian Margaret Cho described their role in Stefani's life as "a minstrel show."
In one 2004 performance, the dancers can be seen forming a circle around Stefani, bowing on their hands and knees.
"Just from body language and physical gestures, it really describes visually what the hierarchy is in that situation," Buscher said. "This is a kind of white supremacy — Gwen being this blonde-haired, blue-eyed pop idol in the center and using this Japanese aesthetic to, I guess, celebrate that in some ways."
An 'alarming level' of racist abuse
The fetishization of women of color can have dangerous consequences.
As Insider's Kristie-Valerie Hoang previously reported, Asian American and Pacific Islander communities have been facing "an alarming level" of racist abuse and violence since the start of the COVID-19 pandemic. In 2021, a string of shootings at Atlanta-area spas left eight people dead, including six Asian women. The shooter reportedly yelled, "I want to kill all Asians."
Although a pop star's representation of Asian women doesn't carry the weight of these horrific crimes, Buscher clarified, it may contribute to a pattern of anti-Asian racism and misogyny that has existed in the US since the 19th century. "It's just another way of pushing that forward into the next generation," he said.
Other pop stars have also been accused of treating marginalized women like props, including Miley Cyrus, whose 2013 album "Bangerz" was deeply rooted in the sounds and aesthetics of hip-hop, a genre created and carried by Black artists.
In music videos and performances around this time, Cyrus would often twerk and surround herself with Black women, sometimes grabbing their butts or other parts of their bodies. Buscher described this as "egregious objectification." (She later apologized for her "insensitive" behavior.)
The stakes of cultural appropriation are high, particularly given the history of colonialism, imperialism, and slavery Black women in this country have faced, said Riche Richardson, a professor of Africana studies at Cornell University.
"What's at stake when one is not really a part of that culture's history — does not share its traumas or the burdens that are associated with that identity — is the potential for commodification and profiteering" at the expense of the people who are the original creators in the culture, Richardson said. 
The difference between inspiration and appropriation
Some pop stars have responded to accusations of appropriation by insisting they simply "admire" the culture, or claiming their actions are born from "love and appreciation." "[It] should be okay to be inspired by other cultures because if we're not allowed then that's dividing people, right?" Stefani told Allure.
Many artists have been able to express that "love and appreciation" successfully and respectfully. Beyoncé's 2022 album "Renaissance" has been celebrated for incorporating queer themes and genres in a respectful way, even though she is a straight woman. The singer also paid homage to many cultures within the African diaspora in her visual album "Black Is King."
"This gets into the idea of elevation, which I say makes the cultural exchange satisfied, as opposed to putting on a costume and doing things that might defile the sanctity of the culture it's drawing from," Ruka Hatua-Saar White, an assistant professor at the Boston Conservatory at Berklee, explained.
Of Beyoncé's recent works, White said it's clear she did "her due diligence."
"Objectively, I think that there's nothing wrong with that kind of cultural exchange as long as the person who is doing it is given permission to do that, and that it's a willing exchange by both parties," Buscher added. "It becomes a more complicated scenario when one person or one group within that conversation holds a lot more power and privilege than the other."
Cultural appropriation occurs when someone borrows practices, ideas, or any element of another culture for one's own fiscal or material gain, White explained. But an artist can use their celebrity to elevate and bring awareness to a marginalized culture.
Madonna, for example, profited from the ballroom scene with the release of "Vogue." However, the song also elevated the community through her support, giving a platform to ballroom houses and performers and donating to Black and LGBTQ causes.
In Stefani's case, it's obvious that she's profited from Japanese culture through her numerous Harajuku clothing lines, products, and hit singles, but it's unclear whether Stefani's adoption has given anything back to Japanese culture. 
"It's about elevation, acknowledgment, and honor within cultural exchanges," White said. "The question is, how are you giving back?"