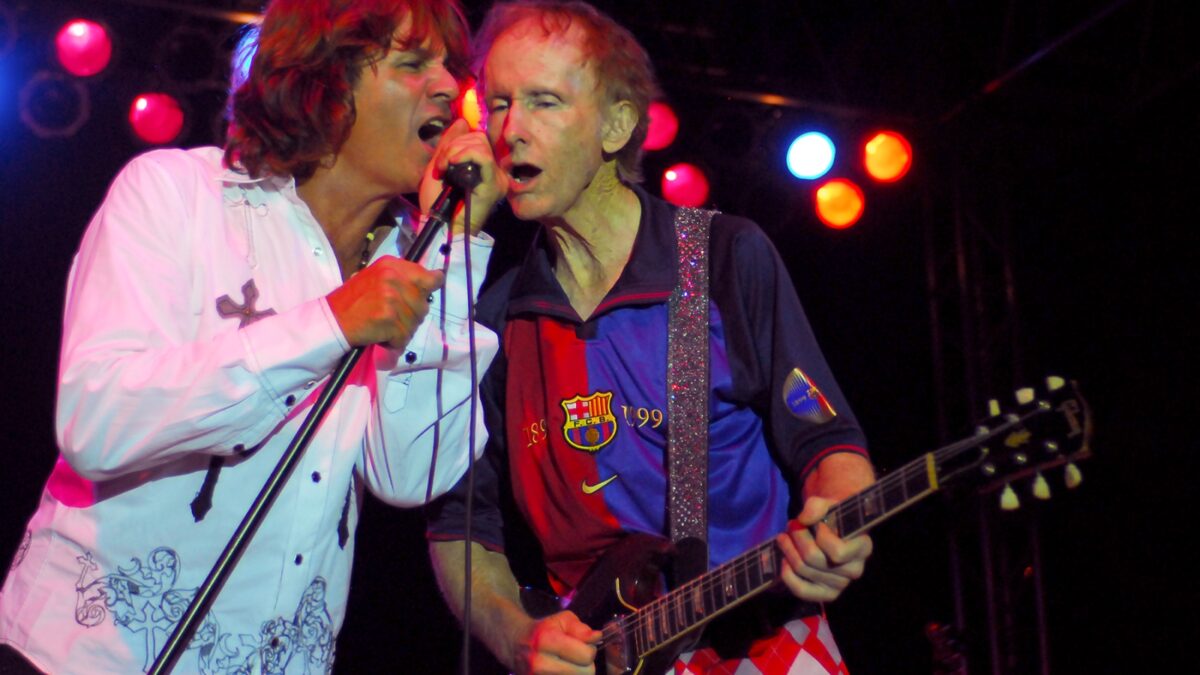 Rolling Stone's interview series King for a Day features long-form conversations between senior writer Andy Greene and singers who had the difficult job of fronting major rock bands after the departure of an iconic vocalist. Some of them stayed in their bands for years, while others lasted just a few months. In the end, however, they all found out that replacement singers can themselves be replaced. This edition features former Manzarek–Krieger singer Dave Brock.
In the aftermath of Jim Morrison's death in 1971, the surviving members of the Doors tried all sorts of ways to carry on. They initially attempted to soldier forward as a trio with keyboardist Ray Manzarek and guitarist Robby Krieger sharing lead vocals, but they gave that up after just two underwhelming albums. In 2002, Krieger and Manzarek rebooted the band (minus drummer John Densmore, and plus singer Ian Astbury) as the Doors of the 21st Century. That project petered out, too, due to a nasty legal battle with Densmore over the use of the Doors name, and Astbury's commitments to his main band, the Cult.
Fuel's Brett Scallions and Steelheart's Miljenko Matijevic both had brief runs fronting the band after Astbury left, but Krieger and Manzarek didn't settle on a winning formula until 2010, when they brought in Dave Brock, lead singer of the long-running Doors tribute band Wild Child. "We've always been kind of afraid to ask him to play with us, because people say, 'Oh, you're using a tribute singer. Now you're your own tribute band,'" Krieger told Billboard in 2011.
"But then Journey got a karaoke singer [Arnel Pineda] and everyone loved it," he continued. "We said, 'If they can do that, we can use David.'…. When people come to see Ray and I, they want to see us do the Doors music as it should be done, so why not use a guy who really is an expert? He knows the songs better than we do, really."
Brock grew up in San Francisco and loved groups like Steppenwolf, Creedence Clearwater Revival, Jefferson Airplane, and Led Zeppelin as a kid. His first concert was Sammy Hagar, and he followed it up with 1978's Day on the Green featuring AC/DC, Van Halen, Foreigner, and Aerosmith. But a career in music wasn't much of a thought when he finished high school and enrolled at Long Beach State.
"One of my mother's last wishes was that I follow business administration," Brock tells Rolling Stone on the phone from his home in Huntington Beach, California. "She passed away when I was just out of high school. I majored in marketing. I gotta say, it probably did me some good in the career that I'm in."
During his time at school, he heard a commercial on the radio that Gazzarri's on the Sunset Strip was going to stage a rock opera dedicated to the life of Jim Morrison. He'd recently read the Doors biography No One Gets Out of Here Alive, and decided to check out the show. "I drove down there," he says. "Turned out to be a live audition. Honestly, it was a surprise. But I got the lead role. I only knew one Doors song, 'L.A. Woman.' It was kind of my theme song at the time."
As the years went by, his knowledge of the Doors went way, way beyond "L.A. Woman." It was a journey that ultimately led Krieger and Manzarek to tap him as their final Jim Morrison replacement. Brock — who's still touring with Wild Child to this day — told us the whole story.
Tell me about this Jim Morrison rock opera that cast you as the lead in the early Eighties.
It was put on by his sister Anne and her husband at the time. They were not show-business people. They gave it a good try, but getting funding was a lot more work than they thought it would be. It never fully developed. We ended up opening for two weekends before it just stopped. They were hoping to get some major funding that didn't come through so they could do it right. I was just 22 at the time.
What was happening in those years to cause this groundswell of interest in the Doors, including the famous Rolling Stone cover?
You had "The End" appearing in Apocalypse Now, which I think was the beginning of that. The book No One Gets Out of Here Alive was a bestseller for a long time. That had just come out. And the Rolling Stone cover was big. "He's Hot, He's Sexy, He's Dead."
There's also the 20-year rule of nostalgia. The original teenage Doors fans were in their thirties by then, and they were suddenly nostalgic and playing those songs for their kids.
The music itself is in a unique place. It was not pop music. It wasn't really famous with people interested in pop music. It had a different crowd. At that time, punk rock was getting really big. I think even part of that crowd found something in that music to listen to. It didn't have all the typical love and flowers messages that were in the majority of the Sixties music. It had a lot more to it.
What happened to you after the production shuttered?
I probably had a year off after that. I got a job at Oshman's Sporting Goods and worked as a ski technician. And I had gone through such intensive training for this rock opera that I thought I had my own tools to put a show together. About a year later, I got some good musicians together to play Doors music. After some test gigs, we did our first real show July 3, 1986 at the Whiskey.
What's the philosophy behind Wild Child? You're not wearing a costume or a wig or doing the stage dialogue, right?
I didn't feel comfortable doing that. There were times I had the leather pants on and similar type clothing, but I didn't go too far with that. I just wanted to perform the music and feel it and share that with people since I kind of had my finger on the pulse of what people liked at the time, and I knew it would be successful.
Are you watching VHS tapes of shows and listening to bootlegs and learning the nuances of Morrison's singing voice and the way the music was played live?
Absolutely. I listened to a lot of bootlegs and live recordings, everything I could get my hands on. There was a lot of good stuff out there. That was an intense studying period.
Are you trying to sing like him? Is your natural voice just similar to his?
Well, my basic voice is very, very similar. Nobody is exact. But I guess it was close enough to where I didn't have to strain my voice. I've seen cover acts where the singer is really struggling. No matter how much you love the music, you need a voice within the same ballpark. I was fortunate to have that.
And you were backed by a three-piece band like the Doors?
Exactly.
No bass player.
Nope. We tried to present a show as similar to a real Doors show as we could without a lot of that dialogue between songs, trying to tell the audience what someone was thinking when they wrote a song.
By the Nineties, there were lots of prominent tribute acts on the road, like the Bootleg Beatles and the Australian Pink Floyd Show. What was the scene like in the Eighties, though?
I don't even believe the term "tribute band" was a phrase in the Eighties. I really don't. There weren't that many people doing that. It really took off in the Nineties. I started this band in the very jaded Los Angeles market. It was a time where new music was demanded. Punk rock, New Wave was flourishing. Sixties music was really passé. I think what gave this show an edge is that it really wasn't about the Sixties, flower power, and stuff like that. It had something else going for it.
I tried to book it at many of the national-act club venues and theaters. They wanted nothing to do with a show where somebody was doing somebody else's music.
This is the era of Ratt and Guns N' Roses.
Yeah. Glam. This is before grunge. Glam was probably huge, maybe the biggest. Rock & roll was taking another twist. Also, New Wave was strong in the early Eighties, and glam took over with bands like Poison.
How did you build up the band when nobody else was doing this kind of thing?
I had to put on my own show. Here comes my marketing experience from college. I had very little money. I rented out the Whiskey. They didn't want to put the show on, although Mario Maglieri was always very supportive. He owned the Whiskey for decades, since the beginning.
So I rented the place out on a Sunday night. I had an adverting budget of $400, which turned into flyers on windshields at the Greek Theater, Universal Ampitheatre when John Kay [of Steppenwolf] was playing, Neil Young, bands like that. There were nice fliers on every windshield, and at every Ticketmaster outlet in Southern California, due to a lot of driving.
Did you pass out the flyers personally?
I never handed a flyer out to a person in my life. Didn't feel good about that. But I did put plenty of them on windshields.
How did the first show go?
I didn't know what to expect. I'd never put on a show before. As it turned out, we turned the house three times. There was a line down the block, around the corner, and back again. I really didn't know what to do with it. That was quite a success, and it caused a big buzz. It's a small town, and everyone heard about it. Now I'm getting these phone calls from venues that didn't give me the time of day, inviting me to play at their clubs. I was like, "OK, I guess this is something that can make us money."
Some people probably saw the Doors back in the day, and others were probably too young and this was their first chance to experience it.
There were a lot of Doors fans at those early shows that were still in their thirties that had seen the Doors. I met hundreds of them that wanted to congratulate us for bringing that music back live to them.
How did the show change throughout the late Eighties and into the Nineties?
Well, we sold out every show we played for probably close to ten years. And then we jumped over to Europe. Amsterdam was our headquarters over there. We did about ten tours over there, including Italy, Germany, France, Netherlands, which was probably our biggest market, and England. We were pretty well-known.
By this time, it's the early Nineties. This is when the tribute band movement started picking up a lot of speed. In Los Angeles, we were playing all the rooms that the traveling, national club acts were doing, the ones that weren't playing arenas anymore. We were selling out all the time. I think there were about two million musicians in Los Angeles that saw that, and decided to form their own bands.
Then the Oliver Stone movie hits in 1991, causing a whole other revival of the band.
Yeah. I was actually the first one to read for that part.
Tell me about that.
Oliver Stone was doing Evita. [Former Doors manager] Danny Sugerman had been lobbying him for a long time to do a Doors movie. He sort of had a treatment for him. I think it was taken from No One Gets Out of Here Alive. Evita with Meryl Streep collapsed. She walked off the set and never came back. He had a crew to feed. So he said, "OK, I guess I'll do this Doors movie."
They had to put it together quick. By the time I got the phone call from Danny Sugerman saying, "Oliver Stone is going to call you, you better not mess it up." And I'm putting that nicely [laughs]. Within a few days, I was reading for Oliver from a script in his office. He was writing it as he was going along, honestly.
That happened a few times. Then he started coming to our shows. It was pretty exciting. Unfortunately, I think [producer] Sasha Harari was putting up $40 million for it. And it was like, "Dave who?" [Laughs.]
How do you think Val Kilmer did with the part?
Well, Val was at our shows too. He was in the back, kind of gleaning what he could. He really wanted that part. Oliver told me that he was lobbying him very heavily. He even slept outside of his front door on his porch like he was Jim Morrison in Venice [laughs]. He wanted it bad.
Do you think he did a good job with it?
I think he did, yes. He did a very good job with it. I think the story itself, unfortunately, since it was put together so fast, lacked a bit of what it was supposed to be.
Do you ever think about what would have happened to your career if you had gotten that part?
Maybe for about ten minutes. It really doesn't do you any good. The fact of the matter is I got the pleasure of reading for it. That was an experience. Maybe I wasn't supposed to do that.
You did play Jim Morrison for a second in Death Becomes Her.
That was a real fun thing to do. I got another one of those phone calls out of nowhere from an agent in Hollywood. I don't even know how they tracked me down. They asked me to try out for the part. I did. I got it. It was just a little cameo. The funnest part of that experience was…Robert Zemeckis shot the scene where Bruce Willis crashes through the glass, into the pool, and runs out. It wasn't enough for him. He came to me and said, "What do you think Jim would have said in a situation like this?" I said, [deadpan] "That was neat." He goes, "Great, we're going to shoot it." They shot it one time, and it was probably one of the biggest laughs in the movie.
Tell me more about how you were structuring the Wild Child show. Do you ever recreate a 1970 show or a 1967 show or do an album straight through or anything like that?
I realized that some of the songs are really good showpieces and come off better than other songs. They have more meat for a live performance. So I gravitate towards about 25 to 30 songs out of the catalog. I might put in one or two obscure songs per show, but there are some songs that just bring the place down that have to be in there almost every time.
Do you play the live versions? A song like "The End" is obviously very different onstage than on the record.
That's right. I've switched up the songs and done different versions. We have different versions for many of the songs. Maybe one night we'll do a studio version, and another night we'll do the Hollywood Bowl version.
Did band membership change a lot as the years went on?
Well, people have careers and they move and they have families. It has changed. I've always had really good musicians. That's a key. It's not hobbyists who love a certain kind of music, but guys who can really pull it off. Those are the people that I hire.
When was the first time you met a member of the Doors?
Danny Sugerman kind of helped me along when I started. He was Ray's manager. He was even the Doors' manager for a few years. He was able to get Ray, Robby, and John down to see our show. He wanted them to see us.
What did they say to you?
After seeing one of the shows, the next show we did, Ray Manzarek came onstage and talked to the audience for about five minutes. I guess he was on board with what we were doing. At the time, he wasn't doing a lot of playing. I didn't play with him at any period when I was with Wild Child.
The same with Robby?
That was a lot different. A couple years later, I got a call from Robby's manager. We had a big show on Hollywood Boulevard going on around 1989 or 1990. She said, "Robby wants to come down and sit in with you guys." What an honor that was. We had never met before. We met at soundcheck, and did the show. From that point on, he would come down and play with us once a year. We even did a tour in Europe together.
Having the guy onstage that co-wrote and played on all the songs must have been incredible.
[Laughs.] Yeah. That was really neat. As a matter of fact, I remember telling our guitar player, "If Robby comes up, just leave. Let him take over." There was no ego there.
What did it feel like the first few times to turn to your side and see Robby playing there? It must have been surreal.
Yeah. I don't even know if I can truly explain it. I'm at a loss for words. But perhaps the biggest honor I could ever get doing what I do.
They could have been hostile. They could have been like, "You're making money off our music. Screw you." But they embraced it.
They never went in that direction.
When did you tour Europe with Robby on guitar?
Well, Robbie was never part of Wild Child. We were touring Europe pretty often. This was probably 1992 or so. Robbie has always been an active player. He's always in at least one or two bands. At the time, he had kind of a jazz band he was touring around with. We went over there as a two-band package. We would open up for Robbie. A lot of times, he'd invite me onstage to sing a song or two with their band. When we played, he'd often come onstage for a couple songs with us. So we played together, but we had our separate bands.
Did you meet John Densmore also in this period?
I can't claim to have met him. It was just in passing. He's never been warm and fuzzy about us or Ray. There was quite a bit of animosity between those two.
What did you think about the Doors of the 21st Century when they started touring with Ian Astbury?
I thought that was great. Ian was a pretty good friend of mine. We went to each other's shows a lot before that. I met him at the Whiskey when we were playing there. I'd see him quite often. What a performer he was. I think that it was a really cool thing when he teamed up with Ray and Robby.
Did it hurt your bookings that suddenly two of the actual band members are on the road and playing the music?
No. Not at all. We were still in a separate pond, so to speak. They were playing some pretty big venues. I think they were together for about five years or something like that.
It's crazy it took them so long to just get a great singer and get on the road. It seems like such an obvious move.
Especially since they saw there was such a demand for it. Any time they went to any of our shows, the place was jam-packed with people going nuts. I don't know if that had any influence on them at all, but it couldn't have hurt.
Ian left in 2007. They replaced him with Brett Scallions of Fuel for three years. And then Miljenko Matijevic joined for a few months in 2010. What do you think those two guys brought to the group?
They were with the band for lot shorter time than Ian. I think Brett was there for a couple of years, and Miljenko for one tour. I think it was just great that Ray and Robby were out there playing. People came to see them, and they got a great opportunity to do it.
During this period when they were going through singers pretty quickly, did you think in the back of your head it was possible they'd call you up?
Well, yes. That was a fantasy of mine. Actually it wasn't too far from reality. Fantasy is probably the wrong word, since it ended up happening.
How did that come about?
They always knew who I was and what I could do, but they were hiring pretty big artists to play with them. I think that was for credibility's sake. But their third singer, Miljenko, I don't know what happened, but for some reason, it didn't work out. They had just finished a European tour, and they had some more dates on this side of the Atlantic right afterwards.
They parted ways, and I got a phone call asking me if I'd play with them. I think it was a few days away. I flew into Detroit, crossed the border, and met them at a place called Chatham in a big park. This was August of 2010. Half of me was saying, "Of course!" I gladly accepted.
How much rehearsal time did you have before the show?
I met them in Canada. They knew that I knew all the songs, probably as good as anyone. It was a huge crowd at this particular park. It was maybe 10,000 or 15,000 people. There we were, ready to go on. We're in the wings of the stage, ready to step out. That was a very special moment for me.
You played "Roadhouse Blues" first. Do you recall that moment?
From the very beginning, the crowd went nuts. It was a great feeling to look to my right and see Ray, look to my left and see Robby. It was the biggest honor I could ever feel.
After the Canada gig, how did you find out it was going to be more than just this one show?
Well, they just kept calling me to do more shows [laughs]. Maybe they were testing the waters to see if they'd get any backlash, but all the reviews I saw were nothing but great.
What's happening with Wild Child at this point?
Ray and Robby were only going out on tour about four times a year at this point. They were two or three weeks each. They told me to continue to do Wild Child, which surprised me. But it never conflicted. I just had to book Wild Child around whatever they were doing.
Was it weird to go back and forth between gigs with Wild Child and the actual guys from the Doors?
Yeah. It was.
Your bandmates didn't mind?
I think they were as happy for me as I was. We were still doing shows. Maybe not quite as many as we had been, but plenty enough.
In 2011, you want to Israel, France, Prague, and all over the world. What was it like to travel so extensively with those guys?
That was terrific. Ray was kind of an alpha dog. He was the captain of the ship, and kind of enjoyed that role. He was very entertaining. A great person to talk to all those times, and travel with. We could be in a situation where we were like, "Here we are, waiting to get on an airplane again?" But I remember one time we were leaving St. Petersburg to go to Italy. They had this big piece of plexiglass between the waiting area and outside. He was pressing his face and hands up agains the glass with his ticket in his hand, pretending like he didn't know how to get in. It wasn't just us, but everyone around us was just losing it.
Are you asking them questions about the Doors that you always wanted to ask? Are you getting stories out of them?
I never asked him anything. I was so tempted to, but I didn't want to be that guy.
When you're onstage, are you approaching the songs the same way you did in Wild Child as far as imitating Jim Morrison?
It was a bit different. I just tried to come off as a good singer. That's what my focus was. People were there to see Ray and Robby. If I could add something to that…the only thing I truly had to offer was giving as good a vocal as I possibly could. That's what I focused on. It worked really well.
I really pulled back as far as being a frontman. I was still a frontman, but I didn't want to tarnish anything by overdoing it.
Did you travel by bus?
We traveled by bus a lot on the east coast of the United States. We even traveled by bus in Europe. It was all of us on one, the crew as well. We had the big double-decker bus. It was like a moving hotel. We usually did get five-star hotel rooms wherever we went. That was great.
It must have been weird at times to walk around the bus and see half of the Doors just asleep in little bunks.
[Laughs.] Yeah. That was, again, one of those special memories.
Did you watch movies or TV together? What did you do in the downtime?
We were so tired. We spent a lot of time in those bunks, or around the back table upstairs. Those guys were tour animals. We were in a different country almost every night. There was a lot of traveling, a lot of really nice five-star hotel rooms left behind, unused [laughs].
There was a lot of tension between that camp and John Densmore. Did you feel any of that tension being in the middle of it?
No. I imagined Ian did, since they were being sued actively when he was in the band. I think he was even named in the lawsuit. I never had to go through any of that. That was pretty much over when I was there.
They also weren't being billed as the Doors of the 21st Century by that point.
That was part of the problem. The promoters, no matter where they played, couldn't help but put "The Doors" and use the logo, which they weren't supposed to. I think they had to make a new contract stating that any promoter that does that…they weren't telling them to do that. It just happened. They made it seem like an actual Doors show. And the Doors are defined as Jim Morrison, Robby Krieger, Ray Manzarek, and John Densmore. It can't be the Doors unless all four of those guys are going to show up.
It seems unfair. It was half the guys. I just saw Yes and it was basically just Steve Howe and replacement members; it's not much different with Journey. Ray and Robbie had a pretty strong claim to that name.
A lot of that is rooted in the band's original contracts they made with each other. In the very beginning, it was Jim Morrison's idea that if the band was going to do anything, it had to be absolutely unanimous. One person could veto any business decision.
Right. That's a recipe for chaos in the long run.
[Laughs.] I guess. But that was the letter of the law.
What are your memories of the final shows you played in 2012?
We did a European tour in the summer. One thing that pops is that we were in Austria for a festival. It was quite a long ride to the festival grounds from Vienna. I remember it was summertime. Ray got in the vehicle, bundled up with gloves, a coat, and a hat. It was the middle of summer. I thought that was strange. He looked over at the tour manager and went, "When can I go home?" I went, "Wow."
He must have been feeling it. Like I said before, we were in a different country almost every day. I was having trouble keeping up with that. But they had to work harder. They had to do these autograph sessions for a couple of hours, almost every show. I was feeling pretty worn out myself, but Ray had bile duct cancer. I don't know if he was just worn down, or something was starting to happen already. That was quite a few months before he died.
The last show was in Tarrytown, New York. Do you recall that night?
Yeah. It was a great night. Ray liked to engineer the setlist. Robby would get together with him sometimes to do that. Ray asked me, "Is there anything that you want to do?" He would do that once in a while. And just to test him, I'd say something off the wall, like "Mystery Train" or an obscure blues song I heard a bootleg of a couple of times. He'd go, "OK. We are going to do that song tonight."
At Tarrytown, he wanted to do "Mack the Knife." When we did our "Alabama Song/Back Door Man" medley. He wanted to throw in a verse of "Mack the Knife," which is something they did back in 1967. That's one thing I remember in particular from our last show. But again, it was a great crowd. The following day, we went our separate ways. And that was it.
Did you see Ray again after that?
No. Not after that tour. We were supposed to do a tour of India in December, but then that got cancelled out of the blue. I think Ray might have been sick around that time. He kept it from everybody. He didn't even tell Robby.
Hearing the news that he died must have been devastating.
I found out that he was sick about a week before. I was playing golf with Robby. That's something Robby and I did a lot on tour. We'd bring our golf clubs. He's a golf fanatic, and he's really good. But we'd travel around and sometimes we'd rent a car and go away from the bus so we could catch a round of golf.
We were playing golf one day. He goes, "Listen to what I've got on my cellphone." He played the message back from me. It went, "Robby, this is your keyboard player, Ray Manzarek. And I'm dying." Then he got more frank about it, instead of trying to be funny, and explained the situation. He was going to Germany for some treatment, and he didn't make it out of there. It was heartbreaking.
Did you attend his funeral?
Yeah. There was a memorial about two months later. It was up in Wine Country.
Was Densmore there?
No.
From what I've read online, they made peace shortly before Ray died.
OK. I'm not going to dispute that. I don't want to talk about things like that since I have no idea. If you say that, great. [Softly.] But I don't think that happened.
After Ray died, did you just focus more on Wild Child?
Yeah. That never stopped. I didn't have to step back into it. I was already doing it. I really miss playing with Ray and Robbie, though. That was the biggest thing I ever did in my career, obviously. And the biggest honor.
It's great you got to spend so much time with Ray in the final years of his life.
I loved singing with him on songs like "Soul Kitchen," on the choruses. That was pretty special. And watching him create a solo out of the air. He did a lot of one-off solos. His favorite song to play live was "Riders on the Storm." He would always dedicate it to Jim and Pamela [Courson]. At the end of the song, he'd play a series of chords that matched his emotion. His eyes would be squinted closed, and he was just reaching for a chord that expressed what he was feeling. That was very touching to me.
What's your relationship like with Robby these days?
We still play together fairly often. I've been sitting in with his band a lot more than he's been sitting with mine. But we see each other all the time.
He's played a few special events with John Densmore in the past few years.
I played with both of them at a St. Jude's benefit, a couple of songs.
That must have been cool to finally play with the drummer.
Definitely. He's a very unique drummer. He plays things from a different angle than most classically trained drummers. There's a lot of extra fills and punctuation that he does very uniquely.
Is there ever talk of some sort of Robby Krieger Band featuring Dave Brock tour?
Well, right now, he's playing with his son on vocals, Waylon. He's really enjoying that. They are still packing them in, doing big business. I'll come down and sit in for a few songs on some of those shows. I really love it. They've been doing some shows at the Whiskey lately.
You've been doing Wild Child now for 35 years now. It may be the longest-standing tribute act out there.
Perhaps it is. That could very well be the case.
You've been singing Jim Morrison songs longer than Jim was alive.
Oh yes. Quite a bit longer. I cannot believe my voice is still the way that it is. I've been extremely blessed to keep that tool. I gotta say, it seems as strong as ever, if not even a little better.
There are singers like David Crosby or Micky Dolenz that just keep their voice no matter how old they get.
Yeah. I feel very blessed for that. I've also taken it easy on myself, too. With Wild Child, I've always avoided the long tours that grind you into the ground and make agents lots of money and you don't even know why you're doing it anymore. I don't do that. I haven't had to.
How many times do you think you've sang the song "Light My Fire?
Thousands of times [laughs].
Do you still enjoy singing it?
Yes. I think what I probably enjoy more than anything else is the energy I get back from the audience. If that's happening with a band, they're going to keep playing. I've seen where the audience isn't quite there anymore or into it. That's when it turns into a job, and just hard work. That's fine too, but I still enjoy what I do.
Do you still want to be doing this in your seventies?
I don't think I've even thought about that. I pretty much go from year to year. I don't need to do this anymore, that's for sure. I'm pretty well set up. I'll tell you what, I still get a pretty big charge out of it. As long as that keeps happening, I'll probably be interested in doing it. I think the old adage of when you get to be 30 years old, you should move onto something else… I see all these classic artists that just play until they can't play anymore, or they die. I'd like to ask them why they keep doing it, but I think it's just something that nourishes your soul. There's a spirituality in performing music. It's almost like a ceremony. It feeds the soul.
It's gotta feel good that the people that wrote this music picked you to sing it with them, and that you were a big part of the band's final act.
I couldn't have written a movie any better. I'm so lucky.