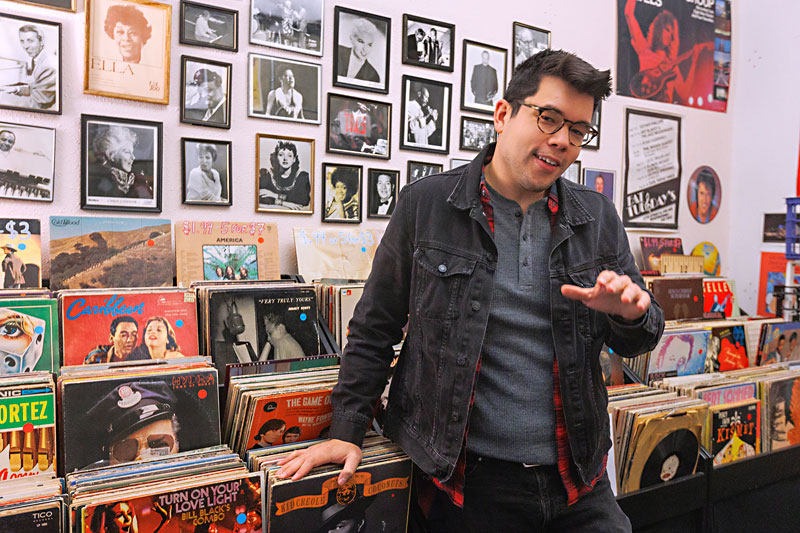 Fennec at BLK Vinyl (photo by Jana Birchum)
It's Fennec's first time at East Sixth Street's BLK Vinyl. The 32-year-old producer – musically aliased after the smallest species of fox – is a recent Austin transplant, though hardly a casual shopper. Like a munitions maker in a minefield, he sifts through the racks with weary, learned caution.
As bargain deals and gently used slabs flash before his eyes, the producer maintains a scientific posture. He harbors the same knowledge as any inveterate beatmaker: The true cost of a hidden gem always runs deeper than the price tag. When one found sound can reorient carefully laid creative plans, clever producers learn to be careful about the music they bring into their lives – and not just because it might land them litigation by a moneygrubbing pop star.
Across an eight-year oeuvre that evolves from windswept, melancholy downtempo (studycore) to funky, tropical house (dance floor), there are approximately 1,200 discrete sonic snatches threaded through Fennec's six albums. He pulls from world-devouring, present-day dance divas and the deepest recesses of jazz obscurantist YouTube – be it a flash-bang cymbal crash or a looping, bass drum thump. In a way, this pseudonymous craftsman has paid for every single sound … y'know, spiritually.
Fennec doesn't sample music so much as the music he makes samples him.
"The majority of what you hear, it's whatever I happened to be watching or listening to at the time I made it. If I'm hearing a new song, I'm thinking, 'Hmm, can I use this somehow?' But if one of my own songs is playing, I'm even less present in the moment. Everything else grays out," the producer explains during a pre-shopping stop at Kinda Tropical, his excitable, intelligent voice running rampant over the soft tones of the restaurant's Curtis Mayfield playlist.
"If I'm not agonizing over what I'd do differently, I'm emotionally back to where I was when I made the track. And I've been to a lot of weirdass places."
No matter where listeners dive in to Fennec's discography, they'll hear the daily therapy of a man who spent the last decade accumulating a degree in media production, a Juris Doctor to practice law, and a master's in public policy – all while balancing an array of soul-sucking jobs and following no stable career path besides the 4/4 thump in his head.
"Music is almost like a video game to me, or journal keeping. Something in the background of my life an hour a day to defuse all the stress," Fennec explains. "If I ever missed a day or two it was like a debt that built up … I gotta have something going or I don't know what I'm doing with my time."
---
Take a break from the discotheque. Silence your booty. Train your mind on the rhythmic intricacies of what's pumping out of the loudspeakers. Obviously, that's a pretty fucking dorky thing to do, so pretty quickly your big brain starts marveling at all the unique ways that sample-based dance music futzes around with time. First, to the astute ear, isolated musical moments call out to each other across the decades.
Piece by piece, perhaps through years of painstaking trial and error, these sublime seconds are then sped up, slowed down, and warped beyond recognition – all in service of a single night of ecstasy, and later, a million hazy memories of life at its most vibrant.
Fennec doesn't sample music so much as the music he makes samples him.
That's long been the subtext lurking beneath the subwoofer in Fennec's music. On the producer's sixth album and national breakthrough, last year's Pitchfork-feted a couple of good days, the producer finally made those themes explicit. "We all want to be free and have a good time. We want a few laughs, a few joints, and a few drinks among those we love. But, we know we're not going to be able to all our lives," the producer wrote on his Bandcamp, just before thanking close to 70 artists who influenced (and may or may not be heard within) the record. "Here is a couple of good days we'll be able to look back on, and forward to."
A smoky, sunset-toned riot of conga hits and Caribbean keys, a couple of good days trains simultaneously on reveries past and present. More danceable than any Fennec has made before, the record's 14 tracks draw from sonic trends only accessible by party-hopping to previous decades: namely, the Mai Tai fantasies of the exotica genre. Once soundtrack to Tiki bars and Madison Avenue clambakes the nation over, exotica was an offset of late Fifties lounge music, swirling Pacific Island rhythms with lushly arranged orchestrations.
Fennec came to the exotica genre in early 2020, near the start of his time in Austin. Driving on Burnet Road for the first time, he pulled over alongside the since-shuttered Genie Car Wash. As the building's neon sign gathered brightness against a sinking Violet Crown sunset, the producer wondered what those retro hues would sound like as music. Pretty soon, Fennec – career student that he is – had built what he calls a "mood board" of close to 100 songs to begin "preliminary research." The producer isn't one to tackle house music from the traditional vantage of vise-tight singles or sprawling mixes; he's all about the album experience.
"The majority of my life, I didn't listen to dance music," Fennec says. "I was interested in it for sure. But I always had this feeling of, y'know, 'Why are all these songs like six or seven minutes long?'"
Fennec's eccentric, erudite twist on house might make more sense considering his sonic roots sprouted far outside it. Coming of age alongside the rollicking rise of the White Stripes and the Strokes, his initial musical endeavors operated shamelessly in their lineage, making rip-off songs that he says could "slot right into their discography, but be not as good." To this day, he still prefers to think through ideas on a guitar over any other instrument.
That near-academic proficiency in mimicry found a new form when he discovered instrumental titans J Dilla and Timbaland, as well as videos showing Maroon 5 and Katy Perry producer Benny Blanco at work. Fennec recalls being fascinated with the idea of pop music as some sort of formula – a series of inalienable rules anybody could learn.
"If I'm not agonizing over what I'd do differently, I'm emotionally back to where I was when I made the track. And I've been to a lot of weirdass places." 
– Fennec

Those were the tools; the inspiration came later. Fennec cites two sample-mad musicians he started listening to during undergrad at Indiana University Bloomington – the dusty, psychedelic loops of Panda Bear and the po-mo, high/low collisions of Girl Talk – for forming his stylistic framework. Working on mash-ups during study breaks, the burgeoning producer gleaned know-how from the syllabi for his music history minor, as well as an internship assisting on "shitty local commercials and education videos."
"I just watched this guy cut together dialogue. He would trim out the 'ums' and 'ahs' to make it this one smooth thing. I came to understand, 'Oh, it's within my power to cut together audio and make it this new thing.'"
When Fennec later applied to the Indiana Bloomington law school in 2012, he wrote his admissions essay about Girl Talk – hoping to practice the sort of copyright law that can offer a fundamental protection to fair use creatives like his musical hero. Ironically, it was during this tenure in higher academia that Fennec finally emerged from the shadow of the artist who got him accepted. In three years, he finished the first two minimal techno-styled albums in his discography. Cushy jobs he worked in the meantime – email marketing and record company inventory management – made it easy to listen to lots of music.
"My big mistake was not realizing that, if you want to work in copyright law – which is really just entertainment law – you have to live in New York or L.A. or Nashville," Fennec admits. "I was like, 'I don't want to do all that.'"
Settling for work in Indiana employment law, Fennec spent only a single, miserable year as an attorney. Resolving to start fresh and "do a 180" landed him in high school teaching, first in a "severely underfunded" public school and then in an only "slightly less impoverished" charter school. Listening to his January 2020 deep house foray, free us of this feeling, takes him back to putting music together on his prep period between classes. He remembers feeling "mentally and physically drained."
As with many a fledgling creative, the onset of COVID-19 forced Fennec down a crucial existential thought spiral. When his fiancée of six years mentioned moving back to her hometown of Austin, Fennec, always having harbored a love for politics and economics, sent an application to the UT-Austin public policy master's program. Pretty soon, the producer was winnowing his record collection for cross-country transport, off-loading unsampled instructional exercise LPs, and dreaming of the couple of good days to come.
"It's so embarrassing," he recalls. "I didn't even know public policy was a field of study before I looked."
Not long after his latest album started gathering careermaking acclaim, the newly master-fied Fennec found employment in 2022 researching tech trends for a think tank. No need for concern, however – when the producer one day revisits this time period through forthcoming music, he promises the memories will be happy ones. Next up, he's working on a dub-and-post-punk-influenced album.
Fennec's workaday responsibilities – extensive fact-finding missions followed by clear, lucid presentations of research – sound an awful lot like his sonic side hustle.
"I would like to juggle both for as long as I can. Maybe, eventually, I can find a way to make a living off music, but there's a really nice freedom to having a day job," Fennec says, just before I leave to let him crate-dig his way out of BLK Vinyl. "You can say no to the things you don't want, and right now I'm really trying to live without having any regrets."