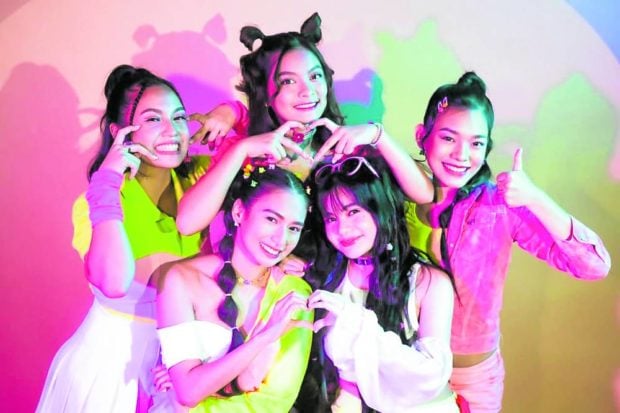 For the newly launched P-pop band Blvck Ace, the goal is to promote Tagalog songs and introduce novelty music to the young audience.
Composed of Rhen, Jea, Ely, Twinkle and Anasity, the five member group—whose ages range from 18 to 19—officially debuted this month with the catchy dance single, "Pasahero."
"I think it's one thing that makes us different. We want to make sure that whenever we step onstage, it's our own music that we perform. We want to do songs in our language. Should we get the opportunity to perform internationally, we hope to make the people vibe to Tagalog songs," member Anasity said at a recent press conference.
"Hindi po 'yung tayo lagi ang mag-a-adjust na English ang kakantahin," she added.
Produced by Blvck Music—the music arm of the rookie girl group's management agency Blvck Entertainment—"Pasahero" is a novelty bop dedicated to our local transport drivers. The "driver" in the song is also a metaphor for an ever-reliable friend who takes on people in need, the "pasahero," as they go on their journeys in life.
"We're happy that the group, at our age, is exploring novelty music. We love it… We hope [young people] can appreciate novelty music because it's nice," Ely said.
"Doing novelty music will also help us reach different audiences—from children, teenagers to older adults," said Twinkle, who feels flattered that some members of the show biz press found Blvck Ace's combination of dance and novelty music reminiscent of the SexBomb Girls. "We're happy… and they're someone we can be inspired by."
The group has also released a Christmas song titled, "Pasko Na Naman," which, the girls say, showcases their versatility. "In the song 'Pasahero,' we did some belting; our Christmas song has us rapping," Ely said.
Personality development
Blvck Ace was formed through a series of auditions. After which, the five chosen members—who had already honed their skills individually through talent competitions—underwent further intensive training in singing, acting and dancing.
They also take personality development workshops to help them navigate the industry. And that includes dealing with bashers—par for the course in the age of social media.
"There will be people who won't like our music. But we look forward to seeing those who will appreciate us, or make us happy. I think it can be good that there are bashers, in a way, because sometimes they're even more updated than the actual fans. We don't plan to engage them," Ely said. "I think they can motivate us to do our job even better."
All equal
Unlike the usual P-pop band setup, wherein members have specific designations, Blvck Ace has none. "There are no roles… Our management wants us to be all equal. We can sing, dance and act. And we continue to hone these skills. As a group, we want to show our versatility as performers," Ely said. "Discipline is also important."
Their performances and music are also designed to give each girl an opportunity to shine. "Wala pong sapawan—no one pulls ahead or gets left behind," Jea said.
"We help each other. If we see someone is having a tough time, we teach each other. We look after each other; no one aspires to have a higher standing," Twinkle said.
Love life isn't on the band's list of priorities at the moment. "We have to focus on our goals as artists. Our focus is to train which is not easy," Ely said. "We have our own dreams, but God led us to something where our hearts feel happy. We're very thankful to our team and families who help us reach our goals." INQ
Read Next
Subscribe to INQUIRER PLUS to get access to The Philippine Daily Inquirer & other 70+ titles, share up to 5 gadgets, listen to the news, download as early as 4am & share articles on social media. Call 896 6000.
For feedback, complaints, or inquiries, contact us.