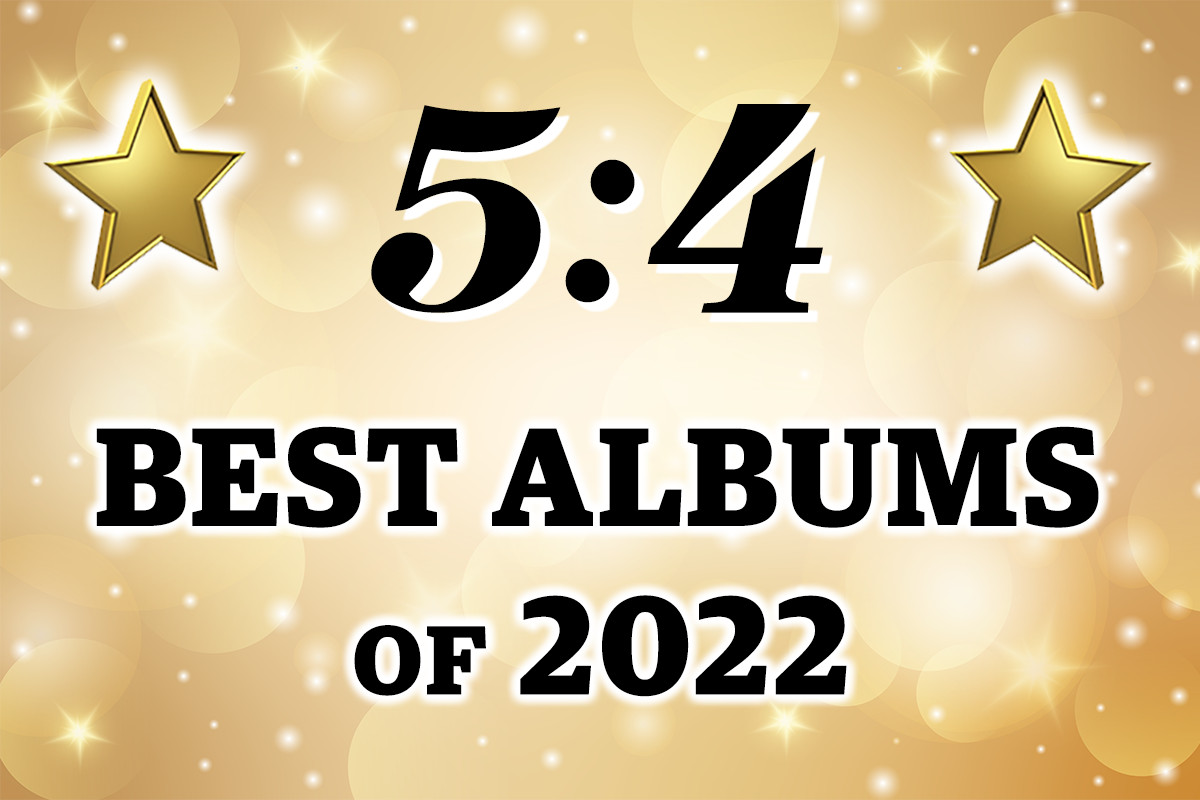 With 2022 poised to come to an end, it's time once again to take a fond look back at the best albums of the year. For a reminder of the process and the rules behind the 5:4 Best Albums list, go here; and now for the music, each one of these ranks among the most brave, brazen and brilliant albums to have been released in 2022. If you haven't already, do yourself a favour and get listening immediately.
---
30 | Juliana Hodkinson – Angel View
"Though they lack a literal visual element, the music more than makes up for that by operating in a way that is overtly suggestive of the tangibility of physical objects: we're not merely hearing sounds, but hearing the means by which those sounds are made constantly and vividly suggested. A recurring feature is the juxtaposition of rhythmic regularity and nebulous sound forms. The former usually manifest as percussive repetitions, not just conventional instruments but also bits of metal and glass, the latter of which often sounds broken (or in the process of being broken). An interesting quality of this is a kind of artless frivolity, less the product of performers with exquisitely-crafted instruments striving for accuracy and clarity than a bunch of friends having fun, mucking around with bits and bobs of scrap material they've found lying around. […] The nebulous music … is more indicative of care and subtlety. […] The most nebulous of all, essentially serving as a paradigm for Angel View as a whole, is 'No. 113 Dining Room', in which an almost inaudible background pitch cluster is practically obliterated by occasional foreground clatter, the whole time giving the impression that the piece is poised to unleash something at any moment, resolved in the seven seconds of total collapse captured in 'Come Back all is forgiven'.
The joy of listening to Angel View comes partly from its imaginative array of sounds and their unpredictable deployment, but just as much from trying to parse their implied inner imperative, the unspoken narrative that gives rise to such a bizarre cavalcade of small-scale sonic wonders." [reviewed in May]
29 | Gwenno – Tresor
On Gwenno's third album Tresor landscape and the natural world are intermingled with meditations on the self. As in her previous solo work, Gwenno's unique musical language is infused with elements of folk and psychedelia. Singing again in Cornish (as on her last album Le Kov) lends the songs an 'other' quality, suggesting remoteness and ancientness, a world away from the mundanities of hectic contemporary living, a place to draw breath, to think, to be. That remoteness, or the isolation it creates, can be felt in opening track 'An Stevel Nowydh', a laid-back fantasy about desired company in solitude, its melodic simplicity enlivened with little stings, and with a lurking richness, even a glamour, lurking below but never breaking free. It finds a sibling of sorts in miniature instrumental 'Men an toll', an ethereal place of plinking tones and deep washes, with Gwenno's voice emerging from within, her claim of being "Incapable / Of escaping / From this" ambiguous as to whether that's positive or negative. 'Tonnow', sedate, dreamy and semi-drenched in reverb, speaks from a comparable place "under the waves" where "Lives the spirit of freedom".
Yet Tresor doesn't exist in some kind of utopian denial about the 'real world'. In 'N.Y.C.A.W.' (the only song in Welsh), Gwenno switches to a kind of weary sprechgesang in order to directly address the audience, denouncing "the decisions made by cautious committees", radiantly singing the uplifting refrain, "Wales is not for sale". Though mixed, Tresor's ultimate tone is one of cheerful optimism, closing track 'Porth la' looking to a way beyond past "shame" and "restrictions" to a hopeful future: "when you arrive / I will be here". [CD / Vinyl / DL]
28 | Howard Shore – Crimes of the Future (Original Motion Picture Soundtrack)
For his latest score, accompanying David Cronenberg's unsettling sci-fi Crimes of the Future, Howard Shore has returned to the atmosphere of his earlier soundtrack for Crash. Not in terms of timbre – where Crash was made up of a tangle of sharp overlapping guitar strands, Crimes of the Future is a burbling ballet of analogue synths – but in its dark nocturnal environment, within which sounds revolve and cycle round, simultaneously evocative and claustrophobic. As a shorthand for futurism, the synths are ideal, matching the clunky, squelchy technology used to create such elegant surgical art in the movie. These are expanded upon by a brass choir, providing sober chorale commentary on the florid synthesizer strands, and strings that create mysterious tremulous atmospheres while also mirroring the film's intense intimacy with chamber music.
Deliberately using a minimal palette of motifs, sounds and gestures, Shore makes the music seemingly mesmerised – or horrified – by the on-screen narrative. Though much of the score is tense and poised, as if holding its breath, there are occasions when Shore punctures the surface, as in 'Body Is Reality' and 'Inner Beauty Pageant' where gentle but sharp beats appear, underpinned by bass and percussive movement. Equally, though, in tracks like 'Brecken' and 'Primordial Rapture', Shore takes the music in the opposite direction, inward to a place of delicate fragility and tenderness, highlighting the twisted, sensual beauty at the film's heart. Crimes of the Future is yet another example of Shore's superb gift at creating music that don't merely parrot but embodies the essence of the accompanying story, laden with grime, gloss, gore and glamour. [Vinyl / DL]
27 | Ryoji Ikeda – Ultratronics
It would be plausible to assume that, after nearly three decades, Ryoji Ikeda must by now have exhausted all the possibilities that raw electronic sounds and data elements might offer. Ultratronics demonstrably proves otherwise. Ikeda's work has in more recent years tended to focus on extended (often audiovisual) explorations and reflections on humanity's multifarious relationships with data and technology. Here, though, the emphasis has returned to Ikeda's earlier playful preoccupations with transforming bits and bleeps, tones and noise, and artificial speech into elaborate shapes, forms and patterns.
The typically narrow limits of his palette are defined practically within the minute-and-a-half of introductory track 'ultratronics 00', whereupon Ikeda proceeds through a kaleidoscope of ever-changing beat formations. A garbled voice and radar-like tones embellish the punchiness of '01', made more exhilarating by regular crescendos of radiance and, toward its end, a sustained plateau that rises and builds. '02' initially goes in the opposite direction, plunging into a sustained warm sonic bath, until a repeating robotic "beep" acts as a catalyst for a middle sequence of intense glitch. There are echoes of Kraftwerk in the electronic counting of '04' as well as the more languid squelchy percussion of '05' which features more of those radiant swells. '09' embraces the edgy rhythms of Trent Reznor as the backdrop to its bursts of buzz, whereas '10' ejects beats completely, manifesting as a soft gritty cloud with burbling elements behind.
As in all Ikeda's output, the sounds themselves are often startlingly inelegant, even ugly, but the beauty comes in the way Ikeda creates such intricate, multifaceted choreographies from them, by turns delirious and ecstatic. [CD / DL]
26 | Lera Auerbach – 24 Preludes for Violin and Piano & Oskolki
"An important aspect … that renders these narratives so intimate is the empathetic relationship shared by the instruments. They play together, mourn together, run and drift together, always simpatico in the way they take turns, pass ideas back and forth, and even when they allow the other time alone. At all times there's the sense of two agents united by a single outlook, motivation, behaviour and objective. […] Very little about these pieces feels like conventional chamber music …; not only do the Preludes convey discrete narratives, but the nature of these narratives is such that they pull us in, making us question what's happening and why. […]
The way No. 1 presents an attempt at forcefulness leading to a far from triumphant outcome is typical of many of the Preludes. In No. 7 the violin obsesses over a single phrase as if it's life depended on it; over the course of 60 seconds these repetitions sound more and more confused, the piano's initial reinforcement becoming out of focus. One of the most impressive … narrative progressions comes in the combination of Preludes 14 and 15… . No. 14 is all flash and rapidity until its weird coda, where everything falls apart at the seams; No. 15 continues in its wake – the sound of deep reverberation heard throughout – as a ghostly lullaby, the melody singing precariously on high harmonics.
Katya Moeller and Ksenia Nosikova articulate these dramas with complete immediacy and conviction; from both composing and performing perspectives, this is chamber music at its absolute best." [reviewed in June]
25 | Una Corda – Voolujoon
Following a gap of over a decade, Una Corda's second album features eight works by fellow Estonians written for the ensemble's unique combination of kannel, harpsichord and harp. Margo Kõlar's Kärestik [whitewater] is an essay in transforming arpeggio patterns, alternately clear and oblique, flowing and fragmented, its playfulness matched by a sense of something being figured out along the way. More lyrical is René Eespere's Tres Sorores [three sisters], a piece that, for all its apparent attractiveness and clarity has an impenetrable quality, as if it were playing out passively at a distance rather than actively to the listener. This only makes it more intriguing, though, particularly in its later stages when the music gets progressively slower, as if the trio were needing to consider more carefully what's happening, instantly shedding that veneer of passivity.
Lauri Jõeleht's Cantus angelorum (featured on 5:4 three years ago) is treated to an intricate performance where its interplay of melody and chords is highly dramatic, the latter becoming akin to the deep resonance of gongs. The work maintains an air of thoughtfulness despite being punctuated by ebullient gestures, though its sudden dance-like eruption partway through is a wondrously unexpected moment. Best of all is Bellbuzzbox by Elo Masing, composed in 2008. It seems to transform evocations of bells into water droplets, falling in patterns that appear to be cycling round in patterns, to hypnotic effect. Its soundworld becomes deeply engrossing, channelling these sounds into what seem like independent layers of a complex machine, before turning them marvellously strange and alien. [CD / DL]
24 | Harry Partch – Delusion of the Fury
Ensemble Musikfabrik's painstaking recreations of Harry Partch's weird and wonderful array of microtonal instruments are shown off to glorious effect in this new recording of the composer's 1960s theatre piece Delusion of the Fury. The music most definitely lives up to subtitle, "a ritual of dream and delusion", occupying a bizarre soundworld that moves quickly between relaxed and mannered, natural and heavily stylised modes of articulation. Yet for all its strangeness, Partch nonetheless establishes a tone that's both serious and solemn, even if the specifics of its narrative are often allusive or inscrutable.
As they always do, Musikfabrik throw themselves into this performance with complete gusto. This is revealing in more ways than one: there's a kind of hermetically-sealed quality to the music that, from a ritualistic perspective, suggests it's less about an intended outcome of the ritual than the act of the ritual itself that's of paramount importance. The implied corollary of this is that Delusion of the Fury is not a ritual performed for some external faithful but internally, for those actually taking part. None of which, incredibly, makes it any less engaging to listen to, navigating through its ever-changing sequences of rhythmic patterns, chants and refrains, marvelling at its bewildering cavalcade of timbres and juxtapositions (which still sound surprisingly exotic), all the while clarifying afresh just how radical and forward-looking Partch was. Absolutely nothing about this music sounds more than half a century old. [CD / DL]
23 | Belle and Sebastian – A Bit of Previous
The more time i've spent time A Bit of Previous the more impressed i am by the consistency and imagination that the band continues to demonstrate after more than a quarter of a century. These twelve songs all feel weighty in the sense that they come from the perspective of age and its (hopefully) acquired wisdom. The output of that wisdom goes two ways, inward and outward.
The former is expressed as self-reflection. 'Young and Stupid' is an affectionate nostalgia-trip tribute to adolescence, a time when – in the best sense – "nothing matters", and a reminder perhaps to retain some of that outlook and not take things too seriously later in life. This is extended in the high energy realism of 'Talk to Me, Talk to Me', obviating fears of losing control because "now I realise it's all for nothing". A more poignant examination of hopes versus outcomes is explored in 'Deathbed of my Dreams' a song evoking lounge crooners from yesteryear.
The latter comes by way of outward advice, again drawing on the "nothing matters" attitude in the soft but urgent beauty of 'Do It for Your Country', with the reminder that "The world is just a game … So banish all your fears". 'Unnecessary Drama' imparts a mixture of advice and observations in a more rock-fuelled context, while 'Come On Home' takes a more jazzy approach with the encouragement to "Follow in my footsteps, noble page / Never fear from time or cold or age". Most heartfelt of all is closing track 'Working Boy in New York City', an impassioned anthem to inclusion: "Everybody gets an even shot at making heaven / Wide is the gate". [CD / Vinyl / DL]
22 | Töfie – Organic Love
There's been a clear progression since French singer Töfie's so-so 2015 debut album Power of Ten and much more impressive follow-up From Earth three years later. Following a gap of another four years, Organic Love is one of the most compelling pop albums of the year. Not that any of it really sounds like pop; each of its nine songs seems to have been sculpted from opposite, incongruous extremes of light and dark, heavy and weightless. Those opposites manifest most obviously in the way Töfie herself emerges as a diaphanous, floating presence, breathy, enraptured, seemingly at odds with the earthy, grounded accompaniments that permeate each track. At times, her voice is so gossamer-like that she makes the concept of 'song' moot, as in opening track 'Horizons', which through its first half practically functions as an instrumental, her words like thin bands of air in the sky, later glitched beyond recognition and folded back into the texture.
This opener is a paradigm of what's to come, taking the track's initial tone of ecstatic wonder and developing it through crunchy beats and acrobatic electronica. Another standout is the short but decidedly not sweet 'Gothyou' where, though no less glory-fuelled, the music takes a turn for the surly and aggressive, obsessively cycling round and round to the breathy refrain "don't compromise / go fuck yourself". Perhaps the most impressive marriage of contrasting musical elements is 'Stannah To Heaven', a song that manages to sound very slow and very fast simultaneously, along the way moving between precise certainty and vague ruminating vocalise. [CD / Vinyl / Cassette / DL]
21 | Ülo Krigul – Liquid Turns
One of Estonia's most radical and consistently engaging composers, Ülo Krigul's first portrait disc focuses on his work featuring voices, performed by the country's most outstanding vocal group, the Estonian Philharmonic Chamber Choir. The 6-part cycle Aga vaata aina üles [But always look up] moves from a place of simple, wordless serenity to harmonically complex obsession and rapture, along the way taking in rhythmic chanting, wild declamations and mellifluous overlapping textures. This is the music at its most direct, elsewhere Krigul seeks more to evoke and suggest, to much more powerful effect. And the Sea Arose draws on an exchange between Jesus and his disciple Peter to create a fascinating soundworld of confidence and tension, conjuring up the sound of the sea while filling the music with a bristling sense of excitement.
Most beautiful of all – one of the most beautiful things i've heard all year – is Vesi ise, where an oblique, circular text referencing water is turned into an electroacoustic masterclass in abstract mystery, the choir and electronics blending into a single, inseparable voice. All three of these pieces are expanded and developed further in the title track, where Krigul approaches them, as the title suggests, like different forms of liquid, blending and mixing, diluting and condensing them, setting up swells and storms, accumulating them into a huge climax, most of the time keeping the sources remote, offering tantalising glimpses of syllables moving here and there above a warm underlying sonic seabed. [CD / DL]
20 | Orphax – Spectrum
"The essence of each track is the placement of sustained tones in different degrees of proximity to each other, so as to cause various forms of sympathetic and disruptive resonance (to call them 'consonance' and 'dissonance' in this context doesn't really make sense). A key aspect is the dronal nature of these resonances which, as with all music of this kind, raises two interesting listening quandaries, both to do with the perception of change. The first arises from the way pure electronic tones reverberate throughout the space (obviously, this wouldn't apply if listening through headphones); turning or tilting the head often causes the emphasis (and even the nature) of the tones to change. The second is due to Orphax's patience with these pitch superpositions, to the extent that – in conjunction with the first quandary, since it's difficult to listen without moving one's head at all – it can be difficult to know whether a perceived change is real or imaginary.
i like this kind of messing with the mind and ears, it's an extra layer of somewhat puzzling stimulation that makes it impossible to switch off at any point. And it's this that makes Spectrum … such a unique listening experience, as a lot will depend on the context in which the act of listening takes place. […] Drone music can be polarising in terms of listener involvement, but i particularly like the way nothing in Spectrum feels passive, encouraging a constant, active engagement, both enjoying the sounds themselves and the slow transformations they undergo." [reviewed in May]
19 | Tālivaldis Ķeniņš – Symphonies Nos. 5 & 8
"[In] Symphony No. 5 … Ķeniņš hits the ground not merely running but practically at a sprint, the opening Molto animato underpinned by a driving rhythmic motif, something that characterises both of these symphonies overall. […] the urge to ruminate is challenged and ultimately undone by its metric impulse, … slowly infiltrating the line of melodic thought such that, at its high point … it fragments, leading to a thoughtful aftermath until the chugging returns to usher in what amounts to the finale. […] It's a superbly unpredictable way to bring the symphony to a close, opting not to tap into all the boundless energy but instead petering out in a surprisingly introspective fashion.
[In] Symphony No. 8 "Sinfonia concertata" …, the first movement practically pits everyone against everyone else, the instruments all seeming to vie for attention during the opening couple of minutes. Whereupon the real antagonist steps up, blasts from the organ getting the orchestra riled up and triggering a highly rhythmic response. Though titled 'Chorale', the middle movement is highly unconventional, a fact established at its outset in a wonderfully weird assemblage of low drones, high clusters, remote wind filigree, discreet organ chords and a genuinely bizarre unstable muted trombone idea that sounds like a cross between a lament and drunken rambling. […] There's a lot to get excited about in this music, and these superb performances … make a strong case for Tālivaldis Ķeniņš becoming a much more familiar name in the history of the symphony." [reviewed in May]
18 | Jenny Hval – Classic Objects
One of the defining features of Jenny Hval's latest album is its free form approach to song. There are notions of "verses" and "choruses", but for the most part each of these eight songs is a fluid progression through its respective lyrics, contorting structurally as required. The fact that they don't sound overtly unconventional – still less, experimental – is a testament to their clarity, in terms of both words and music. The title track is an excellent example of this, unfolding as a focused stream of poetry, yet the gentle pulse and tilting underlying harmonies effortlessly provide shape and structure to this stream. This song also features one of the most striking things in Hval's songs: the sudden shift, at the chorus, away from low-key intimacy into bright radiance. In 'Cemetery of Splendour' the effect is even more impressive, launching from minimal burbling synth patterns into full-blown ecstatic glory.
i say glory, yet it's vital to reflect on the seriousness of Hval's lyrics. i've always found endlessly beguiling the way Hval's pure, crystalline voice often articulates such raw, provocative lyrical content. 'American Coffee' is a reflection on aspects of Hval's mother, its intensity expressed with surprisingly upbeat, even cheery melismas. Yet it works, both by conveying love despite pain, and by inviting us to reflect on our own emotional response. The best synthesis of all this comes in 'Jupiter'. Hval's chugging verses are again answered by erupting choruses, yet the greater contrast comes in its overall structure: the words peter out barely halfway through the song, which continues into an epic expansion, filled with powerful pulsations, breaths and whispers. Absolutely breathtaking. [CD / Vinyl / DL]
17 | Mitski – Laurel Hell
Eleven songs lasting a little over half an hour says a lot about the brevity on Mitski's sixth album. But it's precisely that brevity that makes these intensely personal songs as potent as they are, offering the briefest of windows into emotionally wrought situations and sentiments. Perhaps it's a coping mechanism of sorts, but the tragedy and heartache in Laurel Hell is articulated through upbeat styles and tropes, many of them evoking music from the past. This collision of moods can make for appropriately uncomfortable listening. 'Stay Soft' features the telling lyric, "Open up your heart / Like the gates of Hell", recounting the damaging implications of vulnerability, that can cause one "to harden up". It's one of two songs to reference knives, of which the other, 'Working for the Knife' is even more challenging, Mitski's measured delivery constantly arriving back at "the knife" that consistently seems to cut into her life.
The conflicted attitude is conveyed with more power in a couple of anthemic numbers, both fast '80s throwbacks, 'The Only Heartbreaker' and 'Love Me More'. The former is a self-critical study, sidestepping the driving beats and synths to confess to being a "loser" and the "bad guy" (the song's subsequent swell comes almost like a reassuring hug) while the latter is a different kind of confessional, effusively stating the need and desire for love from a place of isolation. Yet i can't help feeling the most powerful song of all is one of the quietest: 'There's Nothing Left Here For You' is three minutes of dark tension, flailing from a place of frustration. It's most painfully poignant moment comes halfway through, bursting into radiance at the words "You could touch fire" – before being abruptly, and completely, silenced. [CD / Vinyl / DL]
16 | JH – APEIROZOAN
"'Gyre' is principally characterised by the presence of deep rumble, against which a complex chord slowly emerges before these two elements gradually die back to reveal a softer chord that may or may not have been present throughout the preceding half hour. 'The Thousand Pointed Star' slowly pieces together a wall of sound […] that undergoes a number of apparent surges (some, i think, imaginary) before gradually dissipating until only crackling vestiges of sound remain. […] The other four sections cannot in any meaningful way be so succinctly summarised. They are extensive, immersive soundscapes characterised by a careful, sculptural approach to the juxtaposition and development of their limited palette of sounds. […] Yet pretty much none of those sources … are particularly identifiable, transformed and concentrated here into a collection of elemental sonic forces corresponding to a myriad colours of noise and harmony. That being said, nothing about APEIROZOAN sounds 'raw'; it's clear that every single sound we're hearing is the product of a process that has led to that form. […]
It's only reasonable to note that a work lasting five-and-a-half hours is going to be a daunting prospect for many listeners. To an extent i think this is an entirely appropriate, even essential, part of engaging with APEIROZOAN. It's not just another piece of music, not just another album; the title hints at infinity and to enter into Hamilton's sonic universe is to become immersed – and, perhaps, lost – in a musical infinitude." [reviewed in June]