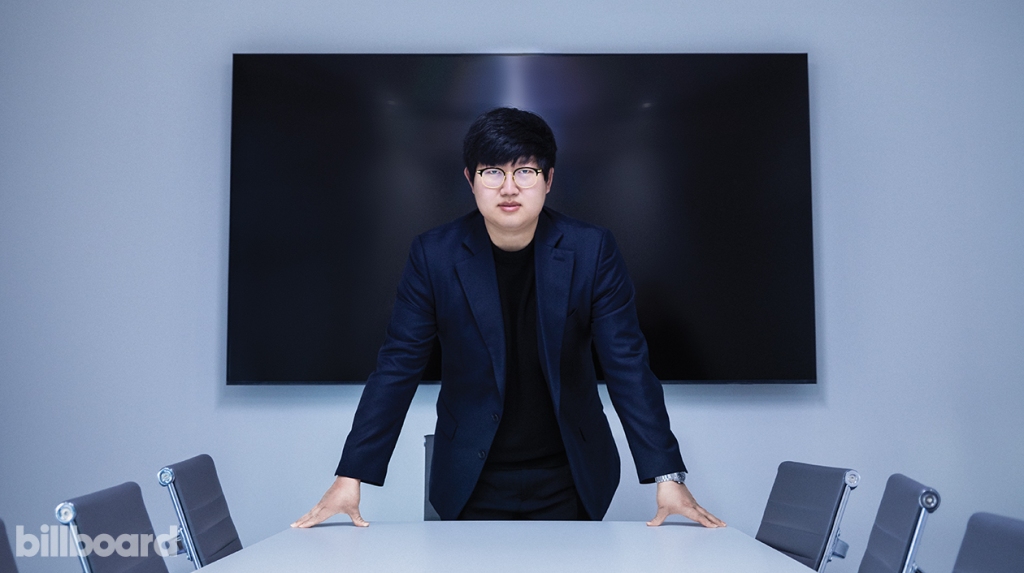 Jangwon Lee's life in music began in typical Korean fashion. "All the kids in my generation grew up with the piano at some point in their lives," Lee says over the phone from Seoul. His love of the instrument continued beyond childhood with a piano duo, The Serendipity, but has taken a back seat to serial entrepreneurism.
While studying business administration at Seoul National University, Lee co-founded Campusdal, a food delivery app. Then, after two years in the Korean air force, he founded Mapiacompany, a technology firm that operates three online platforms for independent musicians to sell digital sheet music. The experience set the stage for Lee's remaking of Korea's music intellectual property (IP) business.
"It gave me the legal knowledge that was necessary to start my new business — the publishing, the copyright laws, how to monetize, how to distribute the royalties," Lee says.
Now, Lee is the CEO of two-year-old Beyond Music, a music investment firm with 26,000 copyrights and about $250 million under management. In 2021, Beyond Music created Asia's first song fund with support from institutional investors including KB Securities, Base Investment and Maven Growth Partners. Last year, it added funding from the electronics and entertainment company Dreamus.
In 2022, Lee doubled down on Korean content by launching an exchange-traded fund focused on Korean entertainment companies, the KPOP and Korean Entertainment ETF. Prominent Korean music companies HYBE, SM Entertainment and JYP Entertainment are in its portfolio, but it also includes Studio Dragon, a TV studio; Naver, owner of messaging app Line; and Kakao, owner of Korea's largest music subscription service, Melon.
In the West, investment money has been flowing heavily into music IP for more than a decade, especially in the last five years. It seems like the practice took root in Korea much later. Why do you think that is?
In 2017-18, when Hipgnosis started, there were very few precedents for Korean capital markets. You've got to understand the market, the nomenclature, the industry network. You have to know the nooks and crannies of the IP business. And also, you need to have a financial grasp, the understanding of capital markets, how to raise capital, how to structure the company, how to build, how to do tax-efficient modeling, IRR [internal rate of return] predictions, quantitative valuations. This is very much a quantitative business, whereas the understanding of the IP business is a relatively qualitative business. So, these are polar opposites in terms of business characteristics. In the past, I don't think in Korea there was a team that really embodied these polar opposites.
We have people from PwC, KPMG, KKR and Morgan Stanley on our team. We have producers and someone who used to be a top-level executive of the largest music value chain company in Korea. I think that was why we were first to scale, to be able to build and raise funds from the very conservative institutional capital of Korean or Asian private equity and limited partner network.
Streaming is driving growth in global recorded music and publishing revenue, and that growth has helped attract new investors and more investment in general. Is streaming also the main factor behind increased investor interest in music IP in Korea?
Yes. I think it's twofold. No. 1: streaming in the domestic market. Korea ranked [at] No. 6 in terms of market size for music globally. Japan is No. 2. Add Japan and Korea together, it almost equals the European Union. So it is a big market on its own, and local growth here is definitely driving part of it. Another part is Korean content's market share in the global music industry. In the past, Korean music rights' primary source of revenue was domestic usage, and therefore domestic growth was the only tailwind. But now we see the market share of Korean music growing exponentially year over year in other parts of Asia and moreover in Latin America, the Middle East and North Africa regions, Europe, North America. Not just BTS and BLACKPINK, but more midtier artists. You become fans of Korean music through those more hallmark artists, but you end up trickling down to other more long-tail or indie artists as well. And all the markets have been benefiting.
You have a large catalog. Do some of your less popular songs have commercial potential outside of Korea?
We have a mix of more global, more well-received catalogs and older, Korean-focused catalogs. The former obviously is a direct beneficiary of such a market growth trend. The latter, to a lesser degree, is also benefiting. It's surprising that songs on Spotify that are not as famous as BTS at all are getting relative hype from other parts of Asia, and we see it for some of our older catalog as well. I don't know how they were discovered, but on YouTube playlists, on YouTube comments, we see Spanish, we see French, we see it with Southeast Asian languages for songs we own that are 10 to 15 years old.
Multiples and valuations have risen a lot over the last few years. What's the Korean market like right now? Is it as heated as other markets?
It is more heated than before, but to my knowledge, the blended multiple acquisition average used to be between 20 and 30 times. Now with the higher interest rate, multiples are still within the high teens, like 17, 18, 19, or at least like 15. But in Korea, or at least for us, our acquisition multiple, the blended average, is still below 10. So, we have been able to acquire very good assets. We think they are not lesser than their U.S. or U.K. counterparts at all. So, from a quantitative viewpoint, these don't necessarily have to be valued at such a discrepancy. But I think it's a newer market here, and therefore there's less competition.
Is it safe to assume that you'll encounter more competition in the coming years?
I'm hoping not. But from a reasonable standpoint, I do see that may be unavoidable. But it's a good thing for us, because it will also help with our existing catalog valuing up.
What do you do to create additional value for the IP you purchase? Do you actively manage, market and promote the catalog — what Hipgnosis calls "song management"?
Whatever Hipgnosis is doing, we're doing it essentially, whether it be synch, remixes, copyright, better revenue collection techniques. We put our methodologies into two main categories: active management and passive management. We define passive as collecting what was already ours but was somehow being lost due to Content ID not being perfectly managed by YouTube itself. So we employ additional music-pattern recognition — tech companies around the world — to do better collection for our existing catalog, which I know Hipgnosis is also doing. We try to find and mix a better lineup of distribution companies — intermediary publishers, etc. — to maximize our revenue while minimizing the middleman fee. For active, we're doing remakes. We've already done a dozen remakes of our songs. I think two are now in the top 100 charts for Korean music. These are songs that were published 16 years ago, so after acquisition, we made remakes of the songs with new, up-and-rising artists in Korea. By remaking the songs, we hold the new assets as well as our existing assets. We've also worked with media channels in Korea to do music-related shows.
You recently purchased your first major U.S. acquisition: the catalog of producer-songwriter Greg Wells. To do this, you set up a U.S. subsidiary. Do you plan on creating subsidiaries in other countries to pursue acquisitions elsewhere?
Yes, for sure. The U.S. was a symbolic move for us. Our targets, however, lie toward lower-multiple opportunities. So, basically, Asia. We might set up subsidiaries. We might get direct acquisition from our Korean entity. But positioning ourselves as a more Asia-focused, Asia-Pacific music aggregator is our next step.
What might surprise people about the Korean music market?
The market size. For starters, it's larger than most European countries — larger than Canada, Mexico or most Latin American countries, or even countries with more population like Indonesia. I think it's bigger than Italy. Korea is really an advanced country. I can say that with more certainty now than I would have been able to seven or eight years ago.
How much of South Korea's music market depends on the ability of K-pop to keep growing as much as it has in recent years?
That is a topic of interest for Korean media and Korean industry specialists as well — whether this is a one-hit wonder, a short-lived irregularity or a trend. People have been internally questioning, or doubting, the longevity of the trend. This issue has been raised for five, six years. Every year, there's someone who says, "OK, you know, this cannot sustain. Maybe this is the peak. The next year, it might be difficult." But the last five or six years have seen more growth every year, surpassing everyone's expectation. This does have a kind of faith component, and I do have faith. I'm biased. But I think my bias stands with multiple consecutive years of a proven record. There's no other country, outside of the U.S., that spends and reinvests as much money for better-quality music production as Korea. I'm very, very optimistic that this is not a one-time thing, but is a trend that will stick around at least for the next 10 years.