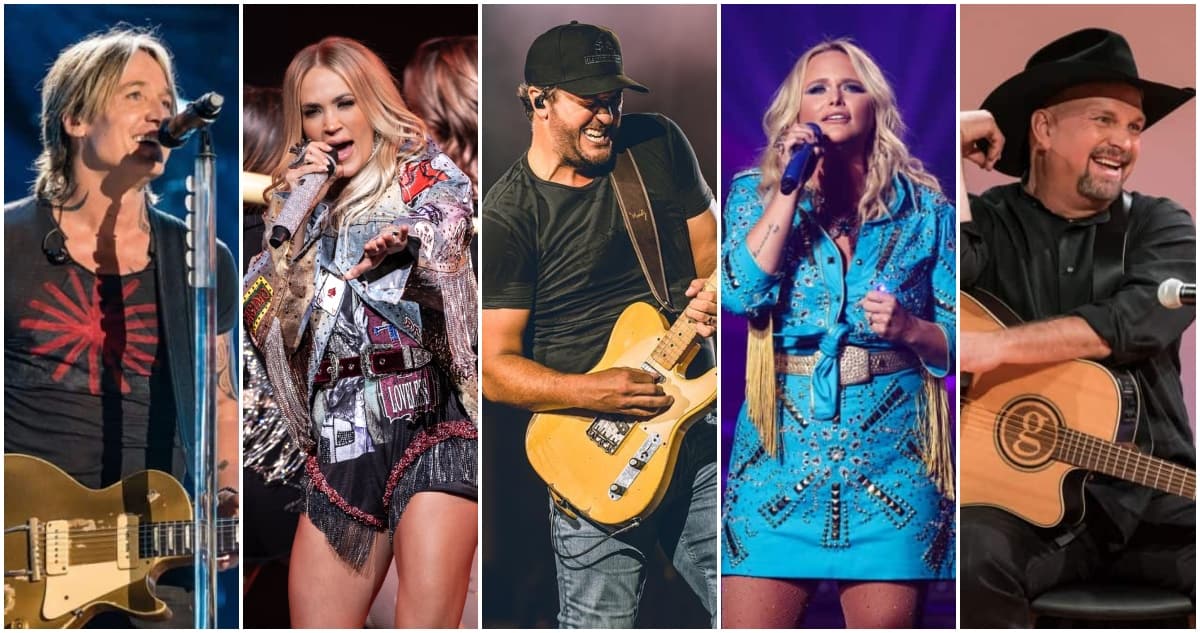 Keith Urban; Photo by Andrew Wendowski, Carrie Underwood; Photo by Jeff Johnson, Luke Bryan; Photo Courtesy Luke Bryan, Miranda Lambert; Photo by John Shearer, Garth Brooks; Photo by Andrew Wendowski
Las Vegas is the home of late nights, fabulous shopping experiences, fine dining, and best of all, world-renowned entertainment. Country stars like Miranda Lambert, Keith Urban, and Garth Brooks are bringing a bit of Nashville to Sin City with a spectacular set of shows, unlike anything fans have seen on a standard tour.   
Shifting stages, surprise guests, epic costume changes and more can all be expected from these upcoming residences.
Keep reading to find out more about the specially-curated country music experiences that are taking over Las Vegas in 2023.
Garth Brooks 
Garth Brooks is taking his live show to Sin City with his Garth Brooks/Plus ONE Las Vegas Residency. Beginning in May, the show will take place at the 4,100-seat The Colosseum at Caesars Palace, in the heart of the famed Las Vegas Strip. 
The country music icon promises that each night of his Las Vegas residency will give fans the opportunity to see him in an intimate setting. Each of the once-in-a-lifetime performances will be unique with varying band members and an occasional special guest. Garth Brooks/Plus ONE kicks off on May 18 and will continue through June, July, November and December of 2023.
Purchase tickets HERE.
Miranda Lambert 
Miranda Lambert is extending her headlining residency show at Zappos Theater at Planet Hollywood Resort & Casino. Due to fan demand, Miranda Lambert: Velvet Rodeo The Las Vegas Residency will now run through the end of 2023. Lambert added 16 new shows, all of which will take place in July, November, and December 2023. Her previously announced shows also include dates in March and April. 
Designed exclusively for Zappos Theater and promoted by Live Nation and Caesars Entertainment, the country star's residency will give her audience an up close and personal opportunity to experience live performances of her numerous chart-topping songs and beloved album cuts.
Purchase tickets HERE,
Keith Urban 
Keith Urban will be taking over Zappos Theater at Planet Hollywood Resort & Casino for 16 dates in 2023. Keith Urban: The Las Vegas Residency will launch in March, following his headlining THE SPEED OF NOW WORLD TOUR 2022, and continue with dates in June and the beginning of July. 
Over the past three years, Urban has had a successful run of shows at The Colosseum at Caesars Palace. In the new space, he promises that each night will consist of a brand-new show that is custom designed for the fresh space in Zappos Theater. 
Purchase tickets HERE.
Carrie Underwood 
Carrie Underwood's wildly successful REFLECTION: The Las Vegas Residency at Resorts World Theatre is slated to return in 2023. The female country star will make her way back to Sin City for 18 new dates, beginning June 21. 
Underwood was the very first artist to grace the Resorts World Theatre stage when she made her debut at the 5,000-seat theatre with a sold-out show on Dec. 1, 2021. With several costume changes and state of the art production, REFLECTION quickly became a must-see Las Vegas residency. Her new headlining stint will include dates throughout June, July, September, November and December.  
Purchase tickets HERE.
Luke Bryan
Due to ticket demand, Luke Bryan has unveiled 12 new dates for Luke Bryan: Vegas at Resorts World Theatre. The expanded residency will showcase Bryan's tremendous success as an artist through a career-spanning setlist, stunning visuals, and shifting stages that move along to the beat of the music. 
Bryan kicked off his residency in February of 2022. With the recently-announced new dates, he will remain in Las Vegas for several shows in February and March before wrapping up on April 1. 
Purchase tickets HERE.