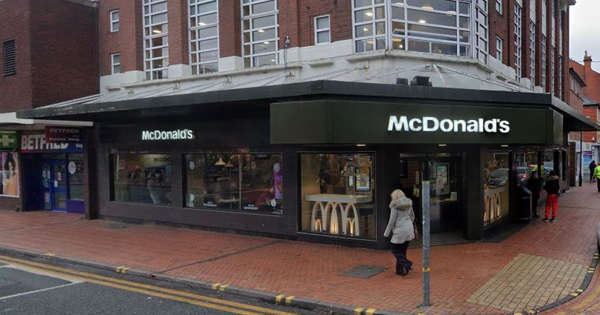 © Google
The restaurant in Wrexham will play classic music and ration Wi-Fi in a bid to control the yobs


A McDonald's restaurant in Wales is turning to classical music in a bid to deter yobs who have caused chaos. Staff at the branch in the city of Wrexham will play classical music including Beethoven after 5pm in a bid to stamp out the misbehaviour that has blighted an area of the city in recent months.
A dispersal order was issued in Wrexham last week after after a group of more than 20 youths rampaged through the streets, prompting reports of an assault, a fire extinguisher being set off, signs and coins allegedly thrown at the restaurant staff and younger children chased.
North Wales Live reports that police inspector Luke Hughes was "absolutely appalled" by the behaviour centred around certain streets and areas, including a "certain fast food outlet", Eagles Meadow and a bowling alley. He said: "I have spoken about these locations a few times and the concerns I have about youths gathering, as well as some of the behaviours we were starting to see that were causing concern and upset."
"We had multiple reports…. of one particular group of youths, that at times numbered 20-30, roaming between locations. There was more than one allegation of assault, a fire extinguisher set off, signs and coins thrown at shop staff and younger children chased by this group."
"I was absolutely appalled when I received the overnight incidents. I am determined to address this behaviour. We did apprehend a few, and took a few home, but I'm not content that this will fix the issue long term."
Now The Sun reports that the 24-hour McDonalds in Wrexhamwill play classical music from 5pm, in a bid to deter the yobs.
Inspector Hughes later said: "I also want to thank those businesses that I had written to earlier in the week. I had a great response, with some imposing entry conditions. A well-known fast-food retailer will be playing classical music from 5pm in the evening, so unless we have some local and unruly Beethoven enthusiasts, it should discourage some issues."
The restaurant will also restrict its Wi-Fi service in an attempt to deter the jobs, while nearby businesses have also pledged to impose entry conditions to tackle the problem.
Another branch of McDonald's in Shepherds Bush, London, previously started playing classical music to control behaviour. McDonald's has previously said: "We have tested the effects of classical music in the past and played it in some of our restaurants as it encourages more acceptable behaviour.
"Typically, classical music would be played from early evening onwards and, in some cases, on certain nights in a small number of restaurants."
The Mirror says that Glasgow was the first city reported to play classical music in a bid to calm rowdy punters. A branch in Stockport, Greater Manchester, also used the tactic following a spate of yobbish behaviour. Another tactic used by McDonald's in Wales in 2020 included banning unaccompanied children from the restaurant after a spate of violent behaviour.
It remains to be seen whether the move works. As a word of caution, in Stanley Kubrick's 1971 film adaptatation of Anthony Burgess's novel A Clockwork Orange, classical music such as Beethoven's Ninth Symphony and Edward Elgar's Pomp and Circumstance March No. 1 provided the soundtrack to ultra-violence from a gang of young thugs. The gang's leader Alex was particularly partial to a "bit of the old Ludwig van".
For stories from where you live, visit InYourArea.